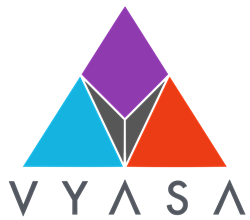 BOSTON (PRWEB) October 28, 2019
Vyasa Analytics, a provider of highly scalable, deep-learning AI analytics software, today announced the launch of its newest product offering, Synapse. Synapse is a novel, deep learning AI-powered web application and associated pre-modeled, document data catalog. The catalog includes tens of millions of high-quality text sources, such as PubMed, patents and clinical trials.
Each Synapse instance is a secure platform for collaborative, project team-based data analytics that provides capabilities to radically enhance the value and usefulness of tabular spreadsheet data.
Powered by "Smart Table" technology, Synapse enables users to seamlessly build and share tables of structured data with information derived from millions of unstructured text documents (e.g. scientific literature, patents, clinical trials and business intelligence content).
The Synapse "Smart Table" functions include the ability to:

drag and drop existing spreadsheets into the app or create new Smart Tables
find novel concepts related to those in a spreadsheet from tens of millions of text documents using the Synapse "Radar" feature
ask natural language questions about an entire column of content in a Smart Table by using the Synapse "Smart Columns" feature
discover and visualize trending terms from published documents and data streams that are relevant to those in a user's Smart Table
add internal document sources to a Synapse instance for secure analytics across internal and public document sources simultaneously
relate all findings back to the documents and data streams they were derived from with the "View Evidence" feature
With these features Synapse enables a wide range of valuable use cases including business development, competitive intelligence, legal research, healthcare analytics and life sciences R&D.
"Spreadsheets are an essential form of modern digital information handling, but historically, connecting the information in spreadsheets to the wealth of unstructured content available to an organization has been a manual and tedious process," said Dr. Christopher Bouton, CEO and Founder, Vyasa. "With the introduction of Synapse, we are applying novel deep learning analytics in the context of tabular data creation, management and analytics to enable a bridge between structured and unstructured content. Synapse gives a user's spreadsheet a brain and fundamentally advances the way they can connect information from document sources, relevant to their most valuable use cases, to their spreadsheets."
According to the "Innovation Insight for Deep Learning" report from Gartner, "Deep learning is here to stay. It is currently the most promising technology in predictive analytics for previously intractable data types for machine learning, such as images, speech and video. It also can deliver higher accuracy than other techniques for problems that involve complex data fusion."
Regarding novel deep learning technologies, Dr. Bouton noted, "We identified that deep learning technologies have the power to provide a connection between structured and unstructured sources in a way that has not been previously possible. Synapse is our solution for enabling users to intuitively gain access to and harness these novel capabilities in the context of a wide range of use cases."
To utilize Synapse's analytical capabilities, users begin by dragging and dropping their own spreadsheets (CSVs, XLS etc.) directly into the application or by creating a new Synapse "Smart Table." Synapse then connects vast amounts of unstructured text data from pre-modeled, master sources including PubMed, the full U.S patent database, clinical trials, Twitter, RSS feeds, internal organizational documents (i.e.: PDFs, document repositories, S3) and a range of paid content providers, to activate the Radar and Smart Column features in Synapse for that Smart Table. The unstructured data sources connected to any given user's secure Synapse system are served by numerous master document sources that are pre-modeled by Vyasa's deep learning data fabric solution, Layar.
To learn more about Vyasa and Synapse, visit http://www.vyasa.com.
About Vyasa Analytics
Vyasa Analytics provides highly scalable deep learning software and analytics. Our technologies enable organizations to ask complex questions across large scale data sets and gain critical insights to make better business decisions.