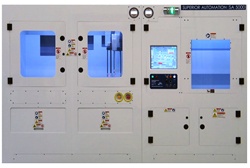 Thermax provides superior chemical- and temperature resistance at a highly competitive price point – a very important benefit when competing in the global marketplace.--Lance Faure, Mechanical Design Engineer, Superior Automation
Scranton, PA (PRWEB) May 31, 2017
Superior Automation, Fremont, CA, a leading global producer of wet process systems, has chosen Flametec® Thermax® PVC for the customized assembly of tool cabinets used in highly-corrosive, chemical-laden environments. Thermax was designed by Vycom to meet Factory Mutual 4910 fire propagation and smoke generation criteria for use in clean room equipment materials such as wet benches, process tools, furniture and cabinetry.
"We fabricate cabinetry to meet the requirements of specific applications," says Lance Faure, mechanical design engineer at Superior Automation. "We use Thermax for the shell, hood, and housing of cabinets used in everything from consumer electronics and semiconductor manufacturing to waste management and telecommunications. Thermax provides superior chemical- and temperature resistance at a highly competitive price point – a very important benefit when competing in the global marketplace."
Thermax was introduced to Superior Automation by Ryan Herco Flow Solutions, a North American distributor of high purity and corrosion resistant fluid handling systems and high value filtration products. Ryan Herco has worked with Vycom to distribute the company's market-leading Olefin and PVC sheet products to customers representing the microelectronics, life science, and specialty chemical industries. "Customers enjoy the workability and superior aesthetics and flame-retardant properties that surpass standard PVC products," said Greg Washler at Ryan Herco.
"In addition to meeting all the required standards for wet bench manufacturing, Thermax provides a rigidity, especially for housing, that is comparable to other higher priced plastics materials," explains Faure. "The customers love the bright white sheen. It not only looks good, which is always a preference in clean room environments, but is less porous than other alternatives making it less likely to absorb caustic chemicals. As a result, the plastic survives longer, up to five years, under heavy use and with less stress cracking."
According to Faure, Thermax also provides fabrication benefits over older polyolefins, which could only be welded through the application of a melted bead after being tacked. "With Thermax, adhesives are simply used to pre-glue the components before they're welded. This has enhanced the speed and precision of the assembly process, while exemplifying the old 'measure twice, cut once' adage. "
Visit http://www.vycomplastics.com or find out more about Superior Automation at http://www.superiorautomation.com.
About Vycom:
Vycom, a division of CPG International, is dedicated to maintaining an environment where quality meets performance. Vycom offers the largest range of products, capabilities and inventory for all your Olefin and PVC needs. For more information, visit http://www.vycomplastics.com.