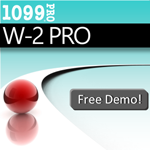 Print, eFile, and Correct W-2 Forms with a single program.
Los Angeles, CA (PRWEB) November 13, 2014
1099 Pro, Inc., https://www.1099pro.com, has released its premier W-2 software for printing, mailing, eFiling, & correcting 2014 W-2 tax forms. Renown for servicing over 10% of the information returns processed in the United States, each year, 1099 Pro delivers yet again. The 2014 W-2 software allows users to import W-2 forms via Excel files, text files, and manual entry. W-2 Pro also allows for printing to blank paper layouts or pre-printed forms, filing electronically, and processing W-2 corrections. More importantly, 1099 Pro allows users the convenience of utilizing the 1099 Pro, Inc. Service Bureau for printing, mailing, and eFiling W-2's.
W-2 Pro's features can be found in the attached product brochure or on 1099 Pro's W-2 software webpage abilities below but what really separates this software from its competitors is the software's ease of use and 1099 Pro's customer service. W-2 Pro offers video tutorials for all major software features in addition to free phone, email, and live chat support. For those who prefer the try-before-you-buy method, W-2 Pro offers a free demo version of the software that can be unlocked at any time - without the loss of data.
Specifically, W-2 Pro software supports forms W-2, W-2c, W-3, & W-3c. The 2014 software comes equips users with the ability to print & eFile standard forms (or corrections) while also providing novel features such as printing to encrypted PDF files or emailing secure copies of W-2's to recipients.
In terms of filing features, W-2 Pro gives its users the ability to file via a paper W-3 or electronically. Electronic filers are afforded the options of directly filing with the SSA and/or creating state direct files for submission to individual states with unique filing requirements and specifications.
1099 Pro, Inc. has been in business for over 20 years and files 10% of the information returns filed in the United States each year. W-2 Pro software is available for 1099, W-2, & 1042-S tax forms and can process printing, e-filing, & corrections.