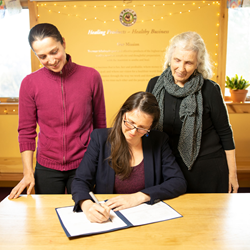 With this important commitment to solar, we're building on our momentum to reduce our carbon footprint and do our part to solve the greatest challenge facing humankind today—climate change
GILSUM, N.H. (PRWEB) December 12, 2019
W.S. Badger Co, an award-winning manufacturer of organic personal care products and a certified B Corp, today announced partnering with renewable energy company ReVision Energy to install onsite solar at its headquarters in Gilsum, New Hampshire in 2020.
This news comes as over 500 leading Certified B Corporations, including Badger, announced at the United Nations Climate Change Conference (COP25) in Madrid their commitment to accelerate the reduction of their greenhouse gas emissions to reach a 1.5 degree trajectory leading to net zero by the year 2030—20 years ahead of the 2050 targets set in the Paris Agreement.
"With this important commitment to solar, we're building on our momentum to reduce our carbon footprint and do our part to solve the greatest challenge facing humankind today—climate change," says Rebecca Hamilton, Co-CEO of W.S. Badger Company. "Signing this contract is just a first step in taking responsibility for our onsite energy use, and setting a goal of NZ 2030 (Scope 1 - 3) underscores our promise to take actionable steps right now that benefit our customers, employees, society, and the planet."
"As an employee-owned solar company and certified B Corporation, ReVision Energy is thrilled to partner with our fellow B Corp W.S. Badger as they complete their transition to 100% solar power for all their operations," says Dan Weeks, Director of Market Development at ReVision Energy. "This 1,445-panel (524-kilowatt) roof- and ground-mounted solar array will generate over 600,000 kWh of clean electricity annually, making it one of the largest solar arrays in the region. The 636,000 pounds of annual carbon pollution reduction is equivalent to taking 61 passenger cars off the road or planting 338 acres of forest."
Weeks goes on to say: "Our solar installers have been using Badger balms for years because they work and because the company behind them sets the bar on social and environmental responsibility. To know that those balms and the many other healing products Badger creates will now be made with solar power is good news all around. When B Corps band together to tackle society's most pressing challenges like the climate crisis, they show that business really can be a force for good."
Certified B Corporations are businesses that meet the highest verified standards of social and environmental performance, transparency, and legal accountability. Today, there are over 3,000 B Corps in the world, hailing from more than 70 countries and 150 industries, harnessing the power of business to solve major social and environmental challenges facing the world today, including the climate crisis. Notably, Badger is among the top 10% of Certified B Corporations worldwide, recognized as Best for the World Overall and Best for the Environment in recognition of its positive impact on the environment, workforce, local communities, suppliers, customers, and corporate governance from 2014 to 2019.
"We are facing a global emergency that threatens our only home and all our children. It's time for leaders to lead. As the source and cause of the vast majority of the planet's greenhouse gases, the business sector is uniquely culpable for the climate crisis—and therefore responsible for demonstrating leadership in eliminating emissions and drawing down carbon as rapidly as possible," states Kim Coupounas, B Lab Global Ambassador, co-chair of B Corp Global Climate Task Force, and co-leader of B Corp Climate Collective. "As evidenced by the NZ2030 commitments made at COP25 this week, B Corps recognize their agency as individual businesses, and as a collective force, to act. Together, these businesses can positively impact vulnerable communities both today and for generations to come, and in so doing, literally change the course of history."
About Badger
Badger is a family-run and family-friendly company that has been making healthy products for people and the planet since 1995. It was twenty-four years ago that company founder Bill Whyte, a carpenter at the time, created a single, simple balm. Today, Rebecca Hamilton and Emily Schwerin-Whyte, second-generation family owners and sister CEOs, are at the helm of a global business with over one hundred natural and certified organic personal care products—from award-winning reef-friendly mineral sunscreens to lip and body balms, hair oils, and bug repellents. Badger's unique company philosophy, pioneering family-friendly benefits, and B Corp community engagement has earned it numerous awards and recognition, including New Hampshire's Business of the Year 2019, and landing a spot on Forbes' Small Giants list.
Badger became a Certified B Corporation in 2011, and in 2015 was one of New Hampshire's first businesses to register legally as a Benefit Corporation, a for-profit status that incorporates the pursuit of positive environmental and social impact in addition to profit. For more information, visit Badger at badgerbalm.com and follow on Facebook, Twitter, and Instagram
About ReVision Energy
ReVision Energy is a local, employee-owned solar company on a mission to transition northern New England from fossil fuels to solar energy combined with battery storage, heat pumps, LED lighting, and electric vehicle charging. As a Certified B Corporation, ReVision is part of a global movement using business as a force for good to solve social and environmental issues.
ReVision Energy is the region's most experienced solar company and is ranked #1 Rooftop Installer in New England by Solar Power World Magazine. ReVision Energy has also been named a "Best for the World" company by B Labs. Learn more at revisionenergy.com.
About B Lab
B Lab is a non-profit that serves a global movement of people using business as a force for good. B Lab's initiatives include B Corp Certification, administration of the B Impact Management programs and software, and advocacy for governance structures like the benefit corporation. B Lab's vision is of an inclusive and sustainable economy that creates a shared prosperity for all. To date, there are 3,000 Certified B Corps in over 150 industries and 64 countries, and over 50,000 companies use the B Impact Assessment. For more information, visit https://bcorporation.net/