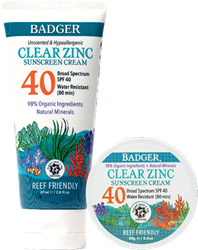 Badger sunscreens have always been reef-friendly—we've spent 15 years creating truly safe and effective products free from chemicals like oxybenzone and octinoxate.
GILSUM, N.H. (PRWEB) May 18, 2021
W.S. Badger Co. has been making people- and ocean-friendly mineral sunscreen products since 2005. In response to continued consumer demand for clean, safe and reliable, reef-friendly sunscreens, the Company has added a new Protect Land + Sea (PL+S) Certified SPF 40 cream in a tube to its existing PL+S cream in a tin.
PL&S certified products are independently tested every year by the well-known and highly-regarded non-profit scientific organization Haereticus Environmental Laboratory (HEL) and is the only independent verification for reef friendly claims in the U.S.
"Badger sunscreens have always been reef-friendly—we've spent 15 years creating truly safe and effective products free from chemicals like oxybenzone and octinoxate, which are known to cause harm to coral reefs and are potential hormone-disruptors," says Rebecca Hamilton, Co-CEO of W.S. Badger Company. "We will continue to push the boundaries of defining what is safe. Achieving the first-of-its-kind Protect Land + Sea Certification for our new SPF 40 Cream in a tube and tin (a four-ingredient zinc oxide sunscreen) is just one way we're going about it."
The Environmental Working Group (EWG) recently released its 2021 Sunscreen Guide, and according to an article published by People magazine online, "If you're looking for a brand that has most of its sunscreen products approved by the EWG, look no further than Badger. The brand has the most approved products by far, with a total of 26 items included across categories. All of its SPF products included in the Best Recreational Sunscreens section also received a perfect safety rating of one…."
Hamilton notes that "Clean, simple and safe is the only way we know how to make sunscreen at Badger. Being consistently top-rated by the EWG going on 14 years shows just how serious we are about safety without compromising on efficacy."
Badger sunscreen was also named Best Mineral Sunscreen of 2021 and one of 8 top-performing sunscreens by Consumer Reports, as stated in TODAY online.
Badger's PL+S certified SPF 40 in a tube (and tin) is available online at badgerbalm.com. All Badger sunscreens (active, baby, kids, and sport) can be found on its Amazon store and in major retailers such as Whole Foods, Sprouts, Target, REI and Wegmans as well as independent food co-ops, pharmacies, and national grocers. The new PL+S cream in a 2.9-ounce tube has a suggested retail price of $17.99. The PL+S cream in a 2.4-ounce tin sells for $14.99.
About Badger
Badger is a family-run and family-friendly company that has been creating healthy products for people and the planet since 1995. Today those products—from award-winning reef-friendly mineral sunscreens to lip and body balms, hair oils, and bug repellents—are proudly made and packaged at its solar-powered manufacturing facility in New Hampshire. Badger's unique company philosophy, pioneering family-friendly benefits, and B Corp community engagement have earned numerous awards and recognition, including being named a 2021 Real Leaders 150 Top Impact Company, New Hampshire Business of the Year 2019, B Lab's Best for the World, and a Forbes Small Giant.
Badger became a Certified B Corporation in 2011, and in 2015 was one of New Hampshire's first businesses to register legally as a Benefit Corporation. This for-profit status incorporates the pursuit of positive environmental and social impact in addition to profit. For more information, visit Badger at badgerbalm.com and follow on Facebook, Twitter, and Instagram.