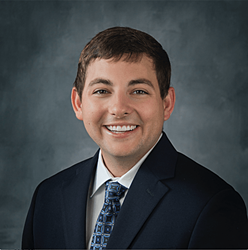 If you can enhance someone's smile, you can change their outlook on life.
WACO, Texas (PRWEB) February 09, 2021
Creekwood Dental Arts in Waco, TX is pleased to announce that dentist, Dr. Austin Green, was elected Treasurer/Secretary of the Central Texas Dental Society (CTDS) for 2021. CTDS covers the eleventh district of the Texas Dental Association (TDA), the third largest state dental association in the country. Working alongside Dr. Donna Miller and Dr. Michelle Hinds at Creekwood Dental Arts, Dr. Green has extensive training in complex procedures including dental implants for missing teeth and wisdom tooth extractions.
The primary goal of the CTDS is to keep members apprised of the latest legislative updates, continuing education opportunities, and volunteer/networking prospects. In addition to his state-level advocacy endeavors, Dr. Green passionately advocates for every patient who visits this highly rated Waco, TX practice. He is dedicated to helping patients with missing teeth and other dental issues improve their oral and general health, and feels that, "If you can enhance someone's smile, you can change their outlook on life."
Most patients with missing teeth experience serious self-esteem issues because they feel embarrassed to smile or interact with others. Tooth loss can lead to declining oral health and function, including a decrease in the ability to enjoy food, loss of bone, and shifting of surrounding teeth. Creekwood Dental Arts has helped countless patients with tooth loss regain their smile and oral health with dental implants.
Dental implants are the gold standard tooth replacement solution due to their longevity, functional benefits, and natural appearance. The restoration consists of a titanium post that replicates the tooth root covered by a customized crown that resembles a natural tooth. "We are able to sculpt the gingiva, or the gum tissue, and sculpt the bone and make it look as natural as a regular tooth," said Dr. Green. From single to full mouth dental implants, Drs. Miller, Green and Hinds are committed to creating prettier smiles while improving the oral and whole-body health of their patients.
To learn more about dental implants for missing teeth and a full spectrum of dental services offered by this experienced team of dentists in Waco, TX, visit CreekwoodDentalArts.com or call their office at 254-870-9026.
About the Dentists
Creekwood Dental Arts is a general dental practice offering personalized dental care to patients in Waco, TX. Drs. Donna G. Miller, Austin Green, and Michelle Hinds provide an array of services with state-of-the-art technology. Dr. Miller was voted the Texas Dentist of the Year™ from the Texas Academy of General Dentistry as well as accomplished The Mastership Award from the Academy of General Dentistry, the highest and most respected award in general dentistry. Creekwood Dental Arts is also an award-winning team, over the last two years they have received The Best Dentist Award by Locals Love Us Waco. To learn more about Drs. Miller, Green, and Hinds or the services they offer, please visit their website at CreekwoodDentalArts.com or call 254-870-9026 to schedule an appointment.