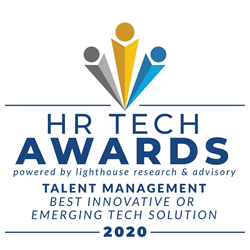 This awards program gives buyers a shortlist of vetted, capable providers specific to their needs, whether they are looking for a new learning experience platform, a talent acquisition CRM, or a core HR analytics tool," said Ben Eubanks, Principal Analyst, Lighthouse Research & Advisory
SAUSALITO, Calif. (PRWEB) August 11, 2020
Waggl, the most powerful Employee Voice platform for HR leaders, today announced that it has received an HR Tech Award from Lighthouse Research and Advisory, a new kind of analyst firm supporting modern strategies in human capital management.
The HR Tech Awards is a curated awards program that honors technology providers in the HCM industry, including learning, talent acquisition, talent management, core HR, and other related disciplines. Waggl has been named "Best Innovative or Emerging Tech Solution" in the category of Talent Management by an independent panel of distinguished experts in the field.
"In all of our years in the HR and talent technology marketplace, so many solution providers come and go," said Ben Eubanks, Principal Analyst, Lighthouse Research and Advisory. "The ones with real value and staying power are who buyers need to connect with, but it's hard for them to navigate the waters of technology evaluation with hundreds of providers in the industry. This awards program gives buyers a shortlist of vetted, capable providers specific to their needs, whether they are looking for a new learning experience platform, a talent acquisition CRM, or a core HR analytics tool."
Waggl provides a robust, yet agile Employee Voice platform that inspires employees and empowers leaders by catalyzing authentic dialogue and alignment around critical business topics. The company recently launched the Waggl Engagement (WE) Solution, which serves as a critical component of the essential productivity suite for all workplaces, remote or in-person, by helping organizations harness the collective intelligence of their people. Based on a cloud-based HR management interface, the WE solution comes with a centralized dashboard that enables users to invite employee insights in real-time and helps organizations streamline and elevate their Employee Voice programs. The WE Solution helps organizations bolster agility, resilience and retention by delivering actionable insight, fresh perspective, and tangible knowledge to leaders and teams, and enabling them to quickly apply them to improving business objectives.
"We are flattered to receive the HR Tech Award in the category of Talent Management," said Michael Papay, Co-founder and CEO, Waggl. "In the midst of the current global pandemic and recession, we continue to be inspired on a daily basis by the opportunity to help employees and organizations improve employee engagement through transparency, dialogue, and more actionable insights."
In Q1'20, Waggl was recognized for the third consecutive year as one of the Best Places to Work in the San Francisco Bay Area by the San Francisco Business Times, Silicon Valley Business Journal, ranking #8 for smallest companies. The company also received major accolades for corporate culture and growth from Forbes as one of America's Best Startup Employers, and from Financial Times as one of The Americas Fastest Growing Companies 2020. In 2019, Waggl placed #15 on the San Francisco Business Times Fast 100 list and ranked 151 on the 2019 Inc. 5000 list of the fastest-growing private companies in the United States, with three-year revenue growth of 2482 percent, placing 26 within California-based companies, 19 within software companies, and 10 within San Francisco companies. The company was named as "Employee Engagement Vendor of the Year" by the 2019 North American Employee Engagement Awards, recognized as a Top Workplace of 2019 by the Bay Area Newsgroup, and by San Francisco Business Times/Silicon Valley Business Journal as one of the Best Places to Work, earning the #2 ranking for wellness and the #10 spot for smallest companies. Waggl was also recognized by the 9th Annual Best in Biz Awards as "Best Local Company of the Year" for the San Francisco Bay Area. Co-founder and CEO Michael Papay was named as a recipient of the "2019 Founders to Watch" award by The Startup Weekly, a leading independent source of news and insights for business builders.
To learn more about Waggl, please visit https://www.waggl.com/.
About Waggl
For HR leaders who need to measure, and truly improve engagement, Waggl is an Employee Voice platform that crowdsources real-time insight to drive faster action and alignment around critical business topics. Inspired by the waggle dance honeybees do to communicate vital information, Waggl believes every voice matters. Unlike heavy surveys or basic pulse tools, Waggl is a dialogue-first approach to engagement that creates shared ownership through inclusive team-based action planning.
With a seasoned Executive Team and premiere customers including Freddie Mac, Paychex, Heineken, 3M, Mastercard, UCSF Medical Center, McGraw Hill, Taylor Morrison and Parsons, Waggl partners with leading enterprises to harness the collective intelligence of their people. For more information and an expanded customer list, please visit https://www.waggl.com.