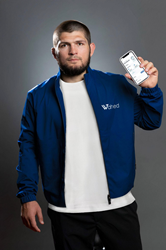 "I love Wahed because it's halal, simple, and I believe we should all manage our money responsibly." - Khabib Nurmagomedov
NEW YORK (PRWEB) September 20, 2021
Wahed Inc, a world-leading FinTech for ethical & halal investing, today announced the signing of legendary MMA champion Khabib Nurmagomedov as brand ambassador to promote financial inclusion around the world.
Since retiring after an impressive MMA career inside the ring, Khabib has been spending his time supporting charitable causes and social impact businesses such as Wahed, which align with his own values and beliefs.
"Khabib is the ultimate icon when you combine morals and financial success," says Group CEO Junaid Wahedna. "His story and achievements are an inspiration to hundreds of millions of people globally. His integrity, work ethic, and commitment to building a more equitable society mirror how we are working to make fintech accessible to people around the world. He is the perfect ambassador for us."
Khabib said, "I love Wahed because it's halal, simple, and I believe we should all manage our money responsibly. I am fortunate to have millions of fans and am proud to have represented them all around the world. They have given me amazing energy when I've stepped into the cage, and outside the cage, I look forward to working more with various communities around the world."
In the same way Khabib transcended his sport through his values, Wahed hopes to do the same and appeal to anyone who believes values and finance should go hand in hand. As an ambassador for Wahed, Khabib will use his platform, alongside Team Khabib, to help bridge the investment gap. They will work with communities to increase financial literacy and social responsibility.
About Team Khabib
In addition to Khabib, there are three others that are part of his team and will be brand ambassadors as well. Islam Makhachev, 30, considered Khabib's prodigy. Zubaira Tukhugov, 30 and Umar Nurmagomedov, 25.
About Wahed Inc.
Launched in 2017, Wahed is a leading financial investment platform that improves financial inclusion through accessible and affordable investing. Wahed has made significant in-roads in the world of ethical and halal investing by creating an easy-to-use digital platform with free portfolio recommendations and simple fees. Available through its website or one seamless mobile app, Wahed's services have already attracted over 200,000 customers in the US, UK, Malaysia and beyond.
Licensed in nine jurisdictions around the globe, with 11 offices and serving over 200,000 customers, Wahed is backed by renowned investors and advisors, helping them make wealth management more equal, pure and fair.
For more information on how Wahed is changing the world of finance for the better, visit https://wahedinvest.com/