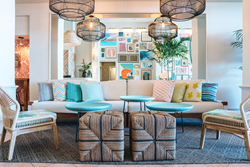 As we look to the future of Hawaii, it's more important than ever to offer independent, free-thinking experiences for guests to connect to our world-class sense of place. -- Jonathan McManus, Founder, Private Label Collection
HONOLULU, Hawaii (PRWEB) February 01, 2021
Located at Waikiki's best address along the Gold Coast of Honolulu, Kaimana Beach Hotel today unveils a refreshed look led by Private Label Collection, a Hawaii-based full-service luxury hospitality management company. Situated directly on the sands of Kaimana Beach, which means "diamond" in Hawaiian, the 122-room hotel has been an integral part of the fabric of Waikiki for more than five decades and now features a modern-boho aesthetic designed by Hawaii-based interior design firm Henderson Design Group. The powerhouse culinary team behind Hotel Wailea, Hawaii's only Relais and Châteaux, Private Label Collection founder Jonathan McManus and James Beard-nominated Chris Kajioka, bring their award-winning style of "culinary casual dining" to the iconic Hau Tree restaurant. Collaborating with executive chef and local legend Alan Takasaki (Le Bistro) a new dinner menu based around sharing plates and conversational dining in a redesigned open-air space debuts, along with an all-day rosé weekend beach brunch.
"All of us at Private Label Collection are thrilled to craft a new era for the Kaimana Beach Hotel," said Jonathan McManus, Founder, Private Label Collection. "As we look to the future of Hawaii, it's more important than ever to offer independent, free-thinking experiences for guests to connect to our world-class sense of place."
Island Inspired Design
Henderson Design Group was tapped to completely re-envision the lobby, Hau Tree, sunset bar, private dining room and five top floor suites with spacious outdoor balconies. The interiors expertly meld a vintage, lived in look with a crisp, beach house vibe that invites one to sit, relax and enjoy a multitude of views. From the moment guests enter the rotunda, eyes are immediately drawn through the lobby which features an eclectic mix of new and upcycled furniture and textiles, straight to the lanai of Hau Tree and the fluorescent blues of Kaimana Beach's waters. Teak woods and oversized woven basket lighting warm the space and vertical lines throughout contribute to the open-air feeling. Artful interpretations of Hawaii's history shine through in eclectic arrangements of vintage and new art on gallery style walls throughout the lively lobby – the social hub of the hotel – creating fun conversation points for couples and groups of friends to share over drinks amongst boho-style seating spaces.
With 122 rooms, many with stunning floor to ceiling windows and dramatic views of either Kaimana Beach or Diamond Head, Henderson Design Group took full advantage of the mid-century architecture. Five new suites on the top floor of the hotel are completely reimagined and are sure to be the most requested accommodations. The Pacific Suite is 838 square feet of island-style living featuring palm print and shibori wallpapers, bright pillows in a rainbow of fabrics and comfortable furnishings that make any hour, happy hour. All of the hotel's ocean view and ocean front suites boast oversized balconies that appear to float above the Pacific Ocean and provide the perfect respite to watch the sunset, sunrise and take a break from working remotely.
Culinary Casual Dining
One of the only locations where you can dine steps from the sand, Hau Tree is the newest revitalized dining destination in Waikiki. In his first ever beachfront restaurant, Chef Chris Kajioka brings a new iteration of "culinary casual dining" to Hau Tree, collaborating with Executive Chef and local legend Alan Takasaki to debut a menu based around sharing plates. Featured dishes include Kahuku Corn Salad Salad with Sherry Vinaigrette, for the first course, Grilled Washugyu Flank with Charred Radicchio and Horseradish Gremolata or Grilled Kanpachi with Sea Asparagus Vierge for the second course and sweet treats including Yuzu Tart with Sour Cream and MacNut Brittle or Japanese Cheesecake with Clementine. Guests can enhance their dining experience with creative snacks such as Mussel Escabeche "Toast" with Umami Aioli and Herb Salad or Trout Roe Verrine with Smoked Egg Mousse, Crème Fraiche and Spiced Potato Chips.
The bar program, led by local mixologist Jen Ackrill (San Francisco's modern craft cocktail bar Rye and local Oahu favorites Pint & Jigger, Sky and Top of Waikiki), transforms Hau Tree into one of the best spots in Waikiki to enjoy sunset cocktails. The Hau Tree cocktail menu is designed for the liquid traveler whether they are visiting the hotel or just stopping in for a quick pau hana drink; there is a cocktail for every person, from the sometimes forgotten vodka soda fan to the nerdy cocktailian. The drinks are designed to excite and pique conversation with nods to the classics and reworks of some favorite beach cocktails. Highlights include the Kaimana Cocktail with Coconut Washed Brokers Gin, Apricot Liqueur and Gran Classico Bitter and the Hau Tree made with Hibiscus Infused Pau Vodka, Yuzu and Lavender. Hau Tree is also the only place on Oahu where guests can enjoy water by Mananalu – actor Jason Momoa's aluminum canned water company that is dedicated to stopping single-use plastics and providing recyclable alternatives.
With Chef Kajioka bringing back new interpretations of wildly popular beloved dishes such as the Hau Tree Eggs Benedict, Ahi Burger and Lemon Ricotta Pancakes, Hau Tree is destined to be the "see and be seen" all-day rosé brunch spot on Saturdays and Sundays. The desirable beachfront open-air venue seamlessly transitions to an intimate, lantern lit dinner location as the namesake Hau trees whisper at sunset.
Live Like a Local
Taking full advantage of being located on one of Waikiki's quietest beaches and best surf breaks, the hotel offers Kaimana Beach Club amenities, which is included in every guest stay, and features access to fitness classes, lei making, Electra cruiser bikes, surfboard rentals through Kai Sallas' Pro Surf School, Peligo beach chairs, plush beach towels and access to a club concierge.
Fostering a deep connection to community, Kaimana Beach Hotel will also exclusively offer guests the opportunity to take surf lessons from celebrated long boarder and local Kai Sallas. The 2018 ISA World longboard surfing champion will teach guests how to surf on an uncrowded beginner-friendly surf spot steps away from the property, right where the sport of surfing took shape.
"Everyone at Kaimana Beach Hotel takes deep pride in introducing guests to our Hawaiian culture," said Ha'aheo Zablan, General Manager, Kaimana Beach Hotel. "I was born and raised in Hawaii along with many of the key players from our culinary, ownership and management teams, so all of the experiences we create at the hotel stem from our shared history here on the islands."
Guests can now experience the reimagined Kaimana Beach Hotel with rates starting at $199/night and suites starting at $699/night. For more information about Kaimana Beach Hotel or to book a stay, please visit: http://www.kaimana.com or Instagram @kaimanabeach and Facebook at http://www.facebook.com/KaimanaHI
About Private Label Collection
As a full-service small luxury hotel management company founded by Jonathan McManus specializing in rebranding and transitions, Private Label Collection works with a handpicked ensemble of exceptional properties, each with its own distinctive character and sense of place. Private Label's sophisticated leadership team takes a non-corporate approach in assisting hotel owners to position and manage their unique properties in order to deliver owner returns on investment. Operating in close partnership with owners, the team handcrafts each strategy to deliver finely tuned marketing, relevant and efficient operations, and memorable guest experiences. For more information, please visit http://private-label-collection.com/.
About BlackSand Capital
BlackSand Capital is a real estate private equity firm based in Honolulu, Hawaii. Founded in 2010, BlackSand Capital is focused on opportunistic investments in direct real estate, structured finance, ground-up real estate developments, and land acquisition, and stands out as the only Hawaii-based real estate private equity manager exclusively focused on investing across all property sectors in the State of Hawaii.
About Tsukada Global Holdings Inc.
Tsukada Global Holdings Inc. is a pioneer in the wedding business and has grown over the past 25 years to become an innovative owner and operator of luxury hospitality, entertainment, restaurant, and event venues throughout the world. Tsukada Global Holdings Inc. currently operates five hotels throughout Japan, including the Hotel Intercontinental Tokyo Bay, The Strings by Intercontinental Tokyo, Kimpton Shinjuku Tokyo, The Strings Hotel Nagoya, and The Strings Hotel Yagoto Nagoya. For more information, please visit https://tsukada-global.holdings/en/