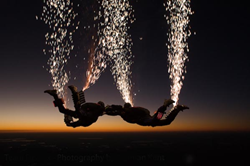 WINSTON-SALEM, N.C. (PRWEB) November 13, 2021
Saturday, November 13th, 2021, the Wake Forest Demon Deacons will host the North Carolina State Wolfpack at Truist Field for their 10th game of the season. The Demon Deacons are coming off a first-of-the-season loss against UNC last week. The game starts at 7:30pm, and as part of the opening ceremony, Team Fastrax™ will gracefully fly the American flag and Wake Forest banner over the stadium for the whole audience to behold. The performance will also feature their famous night pyrotechnics skydive, which is a display you don't want to miss. The whole aerial show will be seen on the scoreboard via the team's air-to-ground video feed, so spectators from all sections at Truist Field will be able take in every breathtaking moment of the performance.
John Hart, owner of Start Skydiving, and Founder of Team Fastrax™ said, "We are excited to perform our patriotic American Flag and pyrotechnic skydive for the Wake Forest game. Our pyrotechnics display can be seen from miles around, so we hope the people in nearby homes enjoy the show!"
According to the Wake Forest website, Saturday is the 115th meeting between both programs. The rivalry between the Demon Deacons and Wolfpack is the second longest continuously played series in college football dating back to 1910. Dave Clawson looks to earn his fourth win against NC State and improve his record to 4-4 versus the Wolfpack. Wake Forest had won three of the last four matchups against NC State by an average of 14.6 points which included a 44-10 triumph in 2019. Wake Forest's offense is third in the country in scoring offense, while ranking sixth in total offense. Additionally, the Demon Deacons are on pace to smash the program scoring mark as the Deacons are more than a touchdown better than their record-setting pace a season ago of 36.0 points per game.
For more information on the game or for tickets, visit the Wake Forest website.
Team Fastrax™ dedicates every performance to a fallen hero. They may be gone but are never forgotten. This performance by Team Fastrax™ is dedicated Army Cpl. Jacob R. Carver, who Died November 13th, 2010, serving during Operation Enduring Freedom. For more information on Army Cpl. Jacob R. Carver visit the Military Times website.
ABOUT TEAM FASTRAX™
Team Fastrax™, sponsored by SELECTiON.COM®, is the most ambitious professional skydiving team in the world. The team has a roster of more than twenty-nine active members, with a collective of more than 300,000 skydives. Team Fastrax™ has performed exhibition skydives all over the world for audiences large and small as a patriotic display or as a product promotion.
ABOUT SELECTiON.COM®
SELECTiON.COM® is a nationwide provider of criminal and pre-employment background screenings, also referred to as a Consumer Reporting Agency. Headquartered in Cincinnati, OH, SELECTiON.COM® is a veteran-owned company that has been in business since 1991 and offers more than 35 background and data collection services.