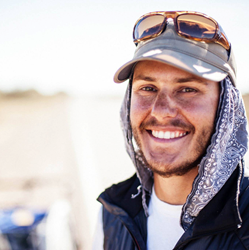 I'm not here to tell anyone what to do. It's all about choice.
Albuquerque, NM (PRWEB) March 25, 2015
After trekking from the beach at Santa Monica, through Los Angeles and across the desert into Arizona, as much as thirty miles in a day, Taylor Lancaster will march into Annapurna's World Vegetarian Cafe (2201 Silver Ave SE, Albuquerque, NM) on March 28, 2015, from 12pm – 2pm, to share homemade (free!) Stone Soup and talk about what could be possible for GMO Labeling in New Mexico. The public is invited to attend.
Taylor is walking across the continent to raise awareness about GMOs and the public's right to know what's in their food. He left the Pacific Ocean on January 15, and has done over 1300 miles over 70+ days, meeting fascinating people along the way. He's on his second pair of shoes and his second pack buggy.
Chris Perkins from GMO-Free NM will speak about the upcoming March Against Monsanto. (To find out more about that event in New Mexico, contact: mam.newmexico(at)gmail(dot)com).
Taylor Lancaster was interviewed by Phoenix CBS affiliate Channel 5. He has been meeting with concerned citizens along his trek, including GMO Labeling groups and allies. In Phoenix, he held an event with Arizona Representative Juan Mendez, who has a GMO Labeling Bill in that state. Taylor has spoken to a school assembly. His growing social audience follows his adventure online.
To arrange an interview with Taylor Lancaster, please contact Nancy Black at nancy.black(at)worldbusiness(dot)org, (805) 569-1559. Images and video are available.
Follow the adventure (check the website for route map and details): http://walk2know.org