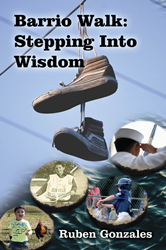 "As I reflect on how my life has changed, I sometimes wonder where I would be now without the love of Christ… I'm sure I would have missed out on blessings and being able to help or care about helping others during the last twenty years. I know what love is, and I also know what love isn't."
PHOENIX (PRWEB) November 22, 2019
Barrio Walk: Stepping Into Wisdom relates Ruben Gonzales' early life with his family in his childhood home in Phoenix, Arizona. Surrounded by colorful neighbors and raised by strict religious parents, the author shares pieces of wisdom which he learned growing up in their small barrio. Each anecdote speaks to the audience from his experiences while referencing biblical stories that shaped his views. He presents the differences in the Catholic and other Christian faiths but embraces diversity in people as one of God's great gifts.
From unfortunate and hilarious incidents with local farm animals to his eye-opening transformation when he fully accepted Jesus Christ as his Lord and Savior, the author's life presents opportunities to praise and thank Him. He even shares how his illnesses were a chance for God to show His strength. "As I reflect on how my life has changed, I sometimes wonder where I would be now without the love of Christ…I'm sure I would have missed out on blessings and being able to help or care about helping others during the last twenty years. I know what love is, and I also know what love isn't."
Other than tidbits of biblical events and advice for his audience, Barrio Walk: Stepping Into Wisdom talks about what it's like to have a family like the author's. Most of these events are positive and heartwarming, but Ruben Gonzales doesn't hide the fact that his conversion to Christianity caused a minor rift in his relationship with his parents who were devout Catholics. However, at his father's deathbed, the two men bonded over the Word of God, and the older Gonzales man eventually opened his heart and spread his arms to accept his time.
One of the most important pieces of wisdom the author shares is the importance of family, as they are a person's primary means of developing a close relationship with the Lord. He advises readers to accept Jesus as their Lord and Savior as early as possible. This belief of his, of course, has been tested countless times throughout the author's life, such as during his days as a young seminarian, an aspiring athlete, a Vietnam veteran for the US Navy, a father, and heavy drinker. His choices made a significant impact on his physical and spiritual health, and he advises his readers to turn to the Lord for guidance and trust in His plans.
When people decide on a specific path in life, they are either too meticulous or not meticulous enough in their planning. Unfortunately, many also end in failure, or they eventually give up their pursuits due to unexpected events getting in the way. The author encounters many roadblocks in life, especially when he was yet to discover what he wanted to do or was too focused on his dreams of being an athlete.
One of the most important lessons in Barrio Walk: Stepping Into Wisdom is to trust in God's plan for everyone. He reminds his readers that He intends to let events fall into place that will ultimately give hope and a future for His children. "Many times, when we want something to happen, it seems confining and it is so hard to wait on God's answer. I'm glad His plans are always better than mine as I have learned to be more patient…He has a plan for my life and He who began a good work in me will carry it on to completion."