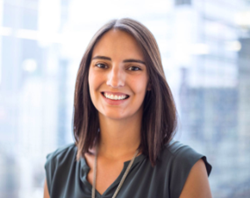 SEATTLE (PRWEB) March 18, 2019
Walker Sands, an integrated PR and digital marketing agency for B2B technology and professional services companies, has elevated Annie Gudorf to vice president of Public Relations. After spearheading Walker Sands' expansion to Seattle in early 2018, Gudorf will be responsible for driving continued growth for Walker Sands on the West Coast.
Since joining Walker Sands in 2013, Gudorf has exhibited tremendous leadership and marketing expertise. In 2017, Gudorf moved from Chicago to grow the agency's West Coast presence, and was the first employee in Seattle. Since opening Walker Sands' Seattle office in January 2018, she has grown the team from one to eight full-time employees, and is currently seeking new office space to make room for the expanding headcount.
Gudorf has played a pivotal role in the success of some of Walker Sands' most complex clients in the B2B technology space, including Cisco, CompTIA, Owler and Nintex. Her client work has been recognized by the Public Relations Society of America, The Holmes Report and recently as finalists for the PRSA Totem Awards. One of these pieces of work was CompTIA's Rosie the Riveter #MakeTechHerStory, an integrated marketing campaign that shed light on the importance of educating young girls about careers in technology that resulted in 180+ media placements, 35,000 video views, 10,000+ monthly web visitors and 1,000 e-book downloads. Gudorf is also a well-versed speaker at industry events, most recently presenting at Content Marketing World 2018 in Cleveland.
"Opening an office in Seattle was a major accomplishment for Walker Sands, and I've been so impressed with how we've immersed ourselves in the local tech community and made the city another home," said Mike Santoro, president, Walker Sands. "Annie has done an incredible job building out a top-notch team and exceptional roster of clients, which have been essential to the expansion of our agency. As we head into the bulk of 2019, it will be great to see our West Coast presence continue to grow and the work we do continue to take our clients to the next level."
To learn more about Walker Sands' public relations offerings and Seattle team, visit http://www.walkersands.com.
About Walker Sands
Walker Sands is a public relations and digital marketing agency for business-to-business technology companies. With an integrated approach to creative services, Walker Sands helps clients build brand awareness, enhance credibility and drive new business. Walker Sands is a six-time Inc. 5000 honoree and regular recipient of some of the industry's most prestigious awards from organizations including Entrepreneur, Holmes Report and Hermes Creative. Walker Sands was founded in 2001 and has offices in Chicago, San Francisco and Seattle. To learn more, visit walkersands.com or walkersandsdigital.com.