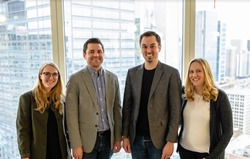 CHICAGO (PRWEB) March 04, 2019
Walker Sands, an integrated PR and digital marketing agency for B2B technology and professional services companies, has promoted Andrew Cross from vice president to senior vice president of PR, in addition to three other PR leaders who have been named to the role of vice president. These elevations, along with an expanded Chicago office space will fuel another year of record-breaking growth for the firm.
Since joining the team eight years ago as employee number 13, Cross has been a critical leader at Walker Sands. He serves as an ambassador for Walker Sands to PROI Worldwide, the world's largest network of independent PR agencies. For the last year, he's overseen all strategy and growth for the PR group based in Chicago. The Chicago PR group has grown significantly over the last several years, having added clients such as Barnes & Noble Education, Inc., Globant, Uberflip, Oak Street Health and Showpad. PR revenue across the organization grew 43 percent from 2017 to 2018.
In addition to Cross's expertise, Walker Sands will take its services to the next level with three dedicated and talented PR leaders who have proven to be experts in the space and masters of strategic communication. These team members have played a significant role in the success of Walker Sands within the Chicago community, as the company was a Chicago Inno's 50 on Fire Blazer winner and Crain's No. 13 Best Place to Work in Chicago this past year alone. Not only will their promotions support the growth of the agency, but will also enhance PR offerings and processes, and develop better management for integrated accounts. The team members recently promoted to vice president are:

Allison Ward - Ward has managed clients across many industries, with a specialization in fintech. She has also proven to be an effective leader in large integrated content marketing, web and video projects for PR clients. Ward is an active member of the Chicago community and sits on the board of the ITA's Women Influence Chicago initiative. Over the past year, Ward has been instrumental in developing Walker Sands' new family leave policy to support working parents and build a better corporate culture.
Erin Jordan - Jordan joined Walker Sands in 2012 and today oversees the PR department's work in retail and marketing technology. She also leads Walker Sands' annual Future of Retail report, now on its sixth year. Jordan has been a keynote speaker at industry events, including IRCE, is one of 12 leaders on PR Council's Next Shadow Board and has played a pivotal role in the success of some of Walker Sands' largest accounts, including CloudCraze (since acquired by Salesforce) and Globant.
Robert Chilver - Since joining Walker Sands in 2010, Chilver has led programs for some of Walker Sands' most technical clients in enterprise software and IT. Along with being a strong PR leader, Chilver has the distinction of leading Walker Sands' longest-standing client, BizBuySell, now entering its twelfth year with the company.
Leadership isn't the only thing expanding at Walker Sands. Since moving its Chicago headquarters to 55 W. Monroe Street in August 2014, Walker Sands has undergone three office expansion projects, the latest concluding in February 2019 in which the agency took over the 39th floor. The expansion includes five new private offices, four new conference rooms, a creative room, five new private phone rooms, 40 additional workstations and a new event space.
"2019 is primed to be a great year for the Walker Sands team. Starting off by elevating our PR leadership team in Chicago is a huge testament to our growth and has been pivotal in elevating our communications strategy to the next level. I'm looking forward to seeing these leaders continue to advance and make these roles their own," said Mike Santoro, president at Walker Sands. "On top of that, taking over the 39th floor is a major milestone for us and one that we've been looking forward to for a while. I'm excited to see how we will continue to fill out the new space in 2019 and beyond."
To learn more about Walker Sands' public relations offerings and the elevated leadership team, visit http://www.walkersands.com.
About Walker Sands
Walker Sands is a public relations and digital marketing agency for business-to-business technology companies. With an integrated approach to creative services, Walker Sands helps clients build brand awareness, enhance credibility and drive new business. Walker Sands is a six-time Inc. 5000 honoree and regular recipient of some of the industry's most prestigious awards from organizations including Entrepreneur, Holmes Report and Hermes Creative. Walker Sands was founded in 2001 and has offices in Chicago, San Francisco and Seattle. To learn more, visit walkersands.com or walkersandsdigital.com.