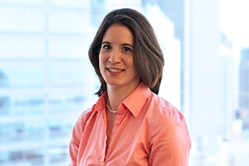 CHICAGO (PRWEB) January 28, 2019
Brooke Bartos, marketing automation manager at Walker Sands, has been named to the 2019 Marketo Champion Class for the second year in a row. In its most competitive year yet, Bartos was one of just 40 Marketo Champions selected from a pool of hundreds of applicants from around the world.
Marketo Champions are an elite group of advanced, Marketo Certified Experts and brand ambassadors who are committed to actively sharing their knowledge and expertise in their communities. Bartos's leadership in the Chicago Marketo Users Group and her Marketo Fearless 50 title all made her an ideal member for the 2019 Champion class. As a Marketo Champion, Bartos will serve as a Marketo ambassador and have exclusive opportunities to engage in Marketo events around the world.
"It is an incredible honor to be a member of the 2019 Marketo Champion class, especially knowing the caliber of qualified candidates," said Bartos. "Everyone in the Champions class has so much to bring to the table and I'm excited for us all to learn from each other. When you get such an amazing group of people like this together, the energy and enthusiasm that it creates is just unmatched."
Bartos supports some of Walker Sands' largest clients and has played a pivotal role in the success of numerous campaigns. Since joining Walker Sands, she has established a robust marketing automation practice area, leading a team of experts to optimize workflows, integrations, strategy and planning, and best practice recommendations.
"Marketing is no longer just about how many emails are opened or clicked on. Today, marketing is increasingly data centered, with marketers being responsible for reporting information around deals and opportunities, as well as leads generated," said John Fairley, senior vice president of digital and partner, Walker Sands. "Brooke has really embraced this evolving role of the marketer and the results show for themselves. We're beyond proud to have her as a part of our Walker Sands team and can't wait to see the amazing things she will continue to do."
For more information on Walker Sands' marketing automation services, visit https://www.walkersandsdigital.com/.
About Walker Sands
Walker Sands is a public relations and digital marketing agency for business-to-business technology companies. With an integrated approach to creative services, Walker Sands helps clients build brand awareness, enhance credibility and drive new business. Walker Sands is a six-time Inc. 5000 honoree and regular recipient of some of the industry's most prestigious awards from organizations including Entrepreneur, Holmes Report and Hermes Creative. Walker Sands was founded in 2001 and has offices in Chicago, San Francisco and Seattle. To learn more, visit walkersands.com or walkersandsdigital.com.