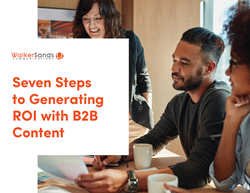 CHICAGO (PRWEB) October 31, 2018
Content is one of the most valuable assets in a B2B marketer's toolkit. And as the buyer journey continues to evolve, it's important for content strategies to evolve with it. However, many marketers are unsure of how to adapt content strategically to increase revenue or measure its return on investment (ROI) to align with today's buying habits.
In response to this challenge, Walker Sands, an integrated PR and digital marketing agency for B2B technology and professional services companies, developed a guide, "Seven Steps to Generating ROI with B2B Content." This guide will teach marketers how to strategically develop and deploy content to successfully convert leads, increase profit margins and strengthen customer loyalty.
"All too often we see marketers overwhelming prospects with irrelevant content, not addressing a customer's direct need, churning out promotional materials instead of informative assets, and publishing content without a conversion strategy in place," said Courtney Beasley, VP of marketing at Walker Sands. "It's important for us, as B2B marketers, to take a step back and really look at how we can avoid these common mistakes and build a strategy that operates with our audience at its core."
Approximately 87 percent of American B2B companies are using digital content marketing and adoption is expected to approach total saturation in just a few years. As it stands, more than half (54 percent) of marketers are allocating 11-25 percent of their annual marketing budget to content marketing, with an additional 22 percent who assign up to half of their budget to content efforts. It's clear that content marketing is at the top of many organizations' minds. However, it's equally important for companies to then effectively create content that stands out in a world where buyers are being constantly bombarded with new information and messages.
"Refining B2B content marketing strategies doesn't happen overnight," said Tim Morral, director of editorial content at Walker Sands. "Content goes beyond messaging these days. It's about taking an integrated approach, leveraging customer insights and implementing promotional strategies across the marketing funnel. Content marketing is a process that touches every aspect of a business, and it's important to work across departments to ensure the content is as effective as possible for each leg of the buyer journey."
To download Walker Sands' "Seven Steps to Generating ROI with B2B Content", visit https://goo.gl/9fr9gD.
About Walker Sands
Walker Sands is a public relations and digital marketing agency for business-to-business technology companies. With an integrated approach to creative services, Walker Sands helps clients build brand awareness, enhance credibility and drive new business. Walker Sands is a six-time Inc. 5000 honoree and regular recipient of some of the industry's most prestigious awards from organizations including Entrepreneur, Holmes Report and Hermes Creative. Walker Sands was founded in 2001 and has offices in Chicago, San Francisco and Seattle. To learn more, visit walkersands.com or walkersandsdigital.com.