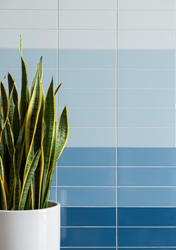 Los Angeles, CA (PRWEB) August 29, 2017
Walker Zanger, the world's most comprehensive stone and tile company, merges practical design with durability in its new glazed porcelain collection: Architek. Its on-trend color palette of blues and greys brings new light to utilitarian floor and wall coverings, allowing architects and designers to achieve a contemporary, luxurious aesthetic at an affordable price point.
"Porcelain has certainly been on the rise as a popular material due to its durability and low-maintenance, which is extremely useful when you're talking about high-traffic areas like university student lounges, hotel showers or food service areas," said Jared Becker, Vice President of Design and Marketing. "We found that it was difficult for architects to find a wider range of contemporary colors for their larger commercial projects, so we created Architek as a more affordable solution, backed by the Walker Zanger brand."
TWEET THIS: New @WalkerZanger Architek #tile merges practical design with #porcelain durability in shades of blues and grey http://bit.ly/WZArchitek
Architek's color palette includes a blend of 12 blues and greys, such as Azul Cristal, Bahama Blue, Charcoal Grey, as well as black and white. The 4-by-12-inch tiles are available in both gloss and matte, so designers and architects can use either one solid color or mix and match the neutral shades to create a uniquely patterned gradient.
Made to withstand heavy use, the European-crafted tile is suitable for both walls and flooring in commercial and residential spaces such as laundry rooms, bathrooms, steam showers and pools.
For more information about the Architek collection and other Walker Zanger products, please visit http://bit.ly/WZArchitek.
About Walker Zanger
Walker Zanger, the world's most comprehensive stone and tile company, combines traditional tile-making techniques with a modern sophistication that transcends any singular design style. A leading choice for design professionals and consumers, Walker Zanger natural stone and tile products can be found in luxury homes, trendy boutiques, lavish spas and resorts, famed museums and fine restaurants around the globe. Walker Zanger is available through 14 beautiful showrooms and more than 200 authorized dealers nationwide.