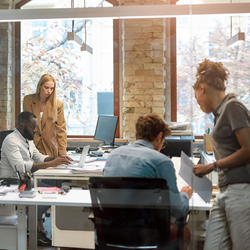 "As a high tech company that has funding rounds, we want to use our funds in the most efficient way. We need a way of controlling the usage of our funding. PyanGo gives us that control."-- Yotam Sturlezi, CPA, Financial Systems Specialist, WalkMe
AUSTIN, Texas (PRWEB) November 19, 2020
PyanGo, a leading provider of advanced financial solutions for NetSuite users, announced today that WalkMe has deployed PyanGo's automated budgetary control solution.
WalkMe, a NetSuite ERP customer, is a fast-growing provider of remote training solutions.
With a growing number of entities worldwide, WalkMe wanted to manage its purchase orders tightly and obligations to external entities, to avoid using up it's funding too quickly.
Based on a recommendation from a local NetSuite partner, WalkMe evaluated PyanGo and quickly determined that PyanGo's automated budgetary control solution for NetSuite was an excellent fit for its needs.
NetSuite is an ideal solution for fast-growing software companies like WalkMe with operations across the globe. The NetSuite ERP makes it easy for WalkMe to manage expenses, regardless of where they occur. WalkMe can use NetSuite's functional infrastructure to quickly set up subsidiaries within the ERP for each of WalkMe's geographic locations. Each subsidiary can then manage its financial operations within NetSuite without impacting other subsidiaries or WalkMe's headquarters. NetSuite's flexibility enables WalkMe to add subsidiaries, suppliers, and customers without changing the software company's underlying financial infrastructure.
With NetSuite, WalkMe can instantly identify expenses for each of its global subsidiaries and effortlessly drill down into the department's expenses or general ledger (GL) account level. The visibility built into NetSuite enables WalkMe to forecast revenues and expenses for each of its subsidiaries. And the real-time updates to NetSuite as transactions occur ensures that WalkMe knows where it stands financially.
PyanGo's automated budgetary control solution complements NetSuite's functionality by checking purchase requisitions and purchase orders against the defined budgets established for each WalkMe subsidiary, department, or GL account to ensure that a transaction will not result in a budget overrun.
WalkMe also can check proposed purchases against the budgets built into the revenue and expense forecast for a subsidiary. This is accomplished by seamlessly integrating PyanGo with NetSuite.
"As a high-tech company with funding rounds, we want to use our funds most efficiently. We need a way of controlling the usage of our funding. PyanGo gives us that control," commented Yotam Sturlezi, CPA, financial systems specialist, at WalkMe.
"PyanGo provides the spend management and budget control that a fast-growing tech startup like WalkMe needs," said PyanGo Founder and Chief Executive Officer Mike Canniff. "The combination of PyanGo and NetSuite helps WalkMe's leadership make better-informed financial decisions while providing them with the peace of mind that the company's spending is being tightly managed."
Click here to read a case study on how PyanGo has helped WalkMe take control of its spending.
About PyanGo
For nearly ten years, PyanGo has delivered advanced financial solutions for NetSuite. PyanGo's solutions are built on the NetSuite SDN platform and help organizations of all sizes eliminate business process complexity and strengthen and streamline their financial operations. PyanGo offers solutions for automated budgetary control, fund accounting, grants, and sub-award management, and expense management. Learn more at http://www.pyango.com.
About Oracle NetSuite
For more than 20 years, Oracle NetSuite, the world's #1 cloud ERP, has helped organizations grow, scale, and adapt to change. NetSuite provides one unified business management suite encompassing ERP/financials, CRM, and eCommerce for more than 20,000 customers in 203 countries and dependent territories. For more information, please visit https://www.netsuite.com.
Learn more >> PyanGo LinkedIn Site