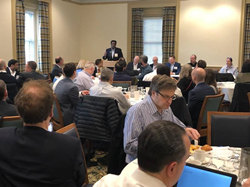 NEW YORK (PRWEB) February 13, 2020
The Wall Street Technology Association (WSTA®), a not-for-profit organization that provides financial technology and business professionals a forum to learn from and connect with each other, will host a panel discussion on "Analytics, AI & Beyond: Next-Gen Computational Strategies" on February 20, 2020 in New York City. Panelists include representatives from financial services, Premier Panel Sponsor: Blue Prism and Panel Sponsor: NTT DATA. Matt Costello, Principal, Booz Allen Hamilton will provide industry perspectives and moderate the discussion. For more information, please visit: https://www.wsta.org/events/event/analytics-ai-computational-strategies/
Panel Discussion Overview
Computational technologies are evolving. On the software side, there's the move from standard analytics and business intelligence to machine learning and AI. These new technologies, along with emerging visualization capabilities, deliver unprecedented business value. But that's not all: emerging capabilities like swarm learning and quantum computing will power unprecedented insights.
Join this panel of industry experts as we provide a glimpse into the future of these computational strategies, technologies and their practical & operational impacts.
We'll cover key technologies such as:

BI/ML/AI and visualization
Swarm learning
Quantum computing
Advanced analytics
And we'll discuss best practices in key areas like:

From big data to big analytics to big information: data quality management
Data stewardship, data models, data governance
Data monetization and data-as-a-service
Using AI and automation in the back office
Intelligent RPA as an application of AI and ML
Next-generation skills and credentials for next-generation computing and analysis
About the Wall Street Technology Association
The WSTA facilitates educational and networking events where members meet and exchange ideas and best practices that assist them in effectively capitalizing on technology advances in areas such as Cybersecurity, Analytics, Internet of Things (IoT), Artificial Intelligence (AI), Machine Learning (ML), Data Management, Cloud, Blockchain, Digital, Architecture, etc. and dealing with financial industry business challenges. Founded in 1967, the WSTA is a not-for-profit association with a long history of evolving to meet the needs of its members.
The WSTA hosts seminars, roundtables, panel discussions, and social events. These events offer many opportunities to learn about leading technologies, as well as network and share information with industry colleagues. The WSTA's educational Digital News provides additional content and information about the WSTA and industry-related activities. The website is a dynamic resource offering access to additional resources including webinars, white papers, videos, and information about other industry events.
About Booz Allen Hamilton
For more than 100 years, business, government, and military leaders have turned to Booz Allen Hamilton to solve their most complex problems. At Booz Allen Hamilton, our singular purpose is to empower people to change the world. Nowhere is that more critical than in the world of cybersecurity today. Having founded the management consulting discipline more than a century ago, we combine our consulting heritage with deep cybersecurity practitioner experience, gained from tackling the highest-profile cyber incidents and challenges across the public and private sectors. Armed with this two-fold value proposition, Booz Allen delivers world-class cyber outcomes to defend and enable society's most critical industries and companies. Our passion is solving the complex and the consequential: those cybersecurity challenges that enable businesses to thrive in the marketplace.