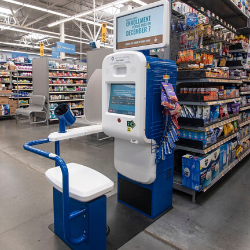 What matters to consumers of every generation is the ability to understand their options and make what for them is the right choice.
CLEARWATER, Fla. (PRWEB) December 11, 2019
Earlier this fall, Walmart opened a new 10,000-square-foot multi-service health center in the Atlanta suburb of Dallas, Ga. A second center, also more than six times the size of Walmart's existing in-store care clinics, is planned for early next year [1]. More recently, Amazon has announced plans to extend its in-store pickup option, already available at 100 Rite Aid pharmacies, to a total of 1,500 GNC nutrition stores, Health Mart pharmacies and Stage Stores retail outlets [2]. "Increasingly," says Dave Rich, CEO of Ensurem LLC, "healthcare offerings—including health insurance—are being made more easily available to people as they go about their everyday lives."
Rich, whose company is an online, multi-carrier insurance brokerage, describes these developments as further signs that healthcare is an industry in transition—including his company who is at the forefront of the Medicare-insurance retail market. To point: The number of walk-in urgent care clinics in the U.S. increased almost 20 percent between 2015 and 2018 and now handle more than 29 percent of all primary care visits and nearly 15 percent of all outpatient physician visits [3]. These facilities are rapidly expanding not just in terms of importance, but also of capability; Walmart's new health center in Georgia, in addition to primary and urgent care, offers lab testing, X-rays, EKG tests, psychological counseling, dental care, optical care and hearing services [4].
The emergence of walk-in clinics and expanded health services in Walmart locations points to the growing desire for consumers to access healthcare when they need it and where they want it.
Along with an expanding range of medical services, notes Rich, in-store clinics and kiosks serve as a frontline source of essential healthcare-related information. The Annual Enrollment Period (AEP) for Medicare, for example, affects millions of people, as 10,000 Baby Boomers turn 65 every day [5]. While some beneficiaries may qualify for special enrollment periods, changes to existing Medicare coverage for all other beneficiaries must be made during the annual time window from October 15 to December 7. Outside of AEP, Medicare Advantage enrollees are only allowed to make one additional change during the Medicare Advantage Open Enrollment Period (OEP) from January 1 to March 31. Making the wrong decision can have serious long-term consequences, yet the options are often confusing and unclear [6].
To help seniors sort through these options and obtain the coverage they need, Ensurem, which has relationships with most of the major health insurance issuers in the U.S., maintains a presence in kiosks within several retail store chains. To date, with the help of companies specializing in health kiosk placements, Ensurem has deployed its first-in-industry software solutions to 4,500 of these kiosks in pharmacies and retail locations throughout the country to simplify the Medicare buying process.
Ensurem's kiosk representatives provide information about, and help with, a wide range of other insurance issues as well. While Medicare coverage is a primary concern of Boomers, all age groups, says Rich, seem to enjoy face-to-face interaction. Warby Parker, he notes, which began life as a Millennial-centric, online-only optician, now has 96 bricks-and mortar stores in the U.S. and three in Canada [8]. The quintessentially Millennial haberdasher Untuckit, also originally an online-only operation, now has a chain 75 stores, coast to coast [9].
"What matters to consumers of every generation," Rich says, "is the ability to understand their options and make what for them is the right choice. Whether a consumer accesses our platform purely online or through a visit to an instore kiosk, our goal is to simplify and clarify the process of evaluating and purchasing insurance—whatever kind of insurance that consumer needs."
Ensurem has entered the retail Medicare solutions market with a large and swift capacity to assist over 300,000 seniors per month trying to navigate Medicare coverage options, including:
1. Online marketing to create awareness and drive seniors to their easy-to-navigate Medicare sales platform;
2. Call centers that log over 2,000 calls per day answering questions from confused seniors as to their benefits;
3. Kiosks around the nation to answer seniors' questions and supply the "brick-and-mortar" stability and familiarity;
4. And forthcoming—an app to connect the above technology offerings into a seamless end-to-end experience.
"Buying insurance can be made simpler and clearer, and we believe it should be. Just because it's important doesn't mean it has to be hard—this is the new paradigm of healthcare-retail."
About Ensurem:
Ensurem, headquartered in Clearwater, FL, is a leading technology and product distribution company serving carriers and consumers within the massive U.S. senior market. The company provides end-to-end solutions for carriers, including product development, digital marketing, and consumer-centric front ends and back end. For more information, please visit Ensurem.com.
1. Japsen, Bruce, "Walmart's First Healthcare Services 'Super Center' Opens," Forbes, September 13, 2019.
2. Brown, Dalvin, "Amazon expands in-store pickup service Counter to GNC, Health Mart and State Stores," USA Today, October 23 2019.
3. Alkon, Cheryl, "What's behind the growth of urgent care clinics?", Medical Economics, August 29, 2018.
4. Lee, Jason, "Walmart opens its first in-store health center: Here's why it's different from other store clinics," The Motley Fool, October 17, 2019.
5. Coombs, Betha, "The 2020 Medicare enrollment season brings fierce competition for baby boomers among insurers," CNBC, October 16, 2019.
6. Miller, Mark, "If You Do Medicare Sign-Up Wrong, It Will Cost You," New York Times, January 31, 2019.
7. Pifer, Rebecca, "CVS to open 1.5K HealthHUB stores in next 2 years," Healthcare DIVE, June 4, 2019.
8. "Retail locations in the U.S.," warbyparker.com/retail
9. "75 Stores," untuckit.com/blogs/store-locations