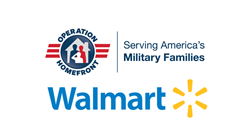 "We are deeply grateful to Walmart customers for sharing our unwavering commitment to helping our military families and raising more than $815,000 to support this very special and deserving group of our fellow citizens." Brig. Gen. (ret.) John I. Pray Jr., President and CEO of Operation Homefront
SAN ANTONIO (PRWEB) November 23, 2021
Operation Homefront, the national nonprofit whose mission is to build strong, stable, and secure military families, announced today that Walmart's round-up campaign raised just over $815,000 through online customers who "rounded up" their Walmart.com purchase to the nearest dollar to support Operation Homefront's mission. The donation supports Operation Homefront's highly valued programs, including Critical Financial Assistance, a vital program that has fulfilled over 46,000 requests from veteran and military families, providing more than $30 million in support for the program overall.
"Our amazing partners at Walmart continue to go above and beyond as, together, we seek to serve those who have done so much for all of us," said Brig. Gen. (ret.) John I. Pray Jr., President and CEO of Operation Homefront. "We are deeply grateful to Walmart customers for sharing our unwavering commitment to helping our military families and raising more than $815,000 to support this very special and deserving group of our fellow citizens."
Separately from this customer campaign, Walmart has supported Operation Homefront's mission since 2006. This includes cash and in-kind support to provide online employment and income support to the rural and underserved veteran community, hurricane relief, Operation Homefront's Back-to-School Brigade and Holiday Meals for Military programs, and more. Walmart and their customers' support are key contributors to helping create the stability, connections and comfort that our military families deserve to start strong in their community and stay strong for their families in the process.
Together, Walmart and the Walmart Foundation generally provide more than $1 billion in cash and in-kind to support programs that align with its philanthropic priorities, focusing on areas that combine the unique strengths of the business alongside its philanthropy. In addition, through Walmart's Find a Future initiative, more than 320,000 veterans and military spouses have joined Walmart's team of associates.
### ### ###
About Operation Homefront: Founded in 2002, Operation Homefront is a national nonprofit organization whose mission is to build strong, stable, and secure military families so that they can thrive – not simply struggle to get by – in the communities they have worked so hard to protect. Recognized for superior performance by leading independent charity oversight groups, 90 percent of Operation Homefront expenditures go directly to programs that support tens of thousands of military families each year. Operation Homefront provides critical financial assistance, transitional and permanent housing and family support services to prevent short-term needs from turning into chronic, long-term struggles. Thanks to the generosity of our donors and the support from thousands of volunteers, Operation Homefront proudly serves America's military families. For more information, visit OperationHomefront.org.