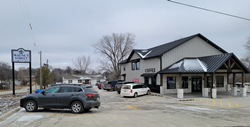 "Crimson Cup pulls everything together, and I wouldn't have wanted to do this any other way. Their program makes everything so smooth." - Laramie "Bill" Yoder, Walnut Street Coffee and Deli
Oskaloosa, Kansas (PRWEB) February 11, 2023
Lynwood and Laramie "Bill" Yoder have opened Walnut Street Coffee and Deli at 409 Walnut Street in Oskaloosa, Kansas. The father-and-son team learned how to open a coffee shop through the 7 Steps to Success coffee shop startup program of Crimson Cup Coffee & Tea.
Walnut Street Coffee & Deli serves espresso drinks crafted by baristas trained in the art of specialty coffee preparation. The deli also features pastries from local bakeries.
"I wanted to bring a deli back to Oskaloosa," Lynwood said. "We had one that closed down about 10 years ago, and people kept asking for food and beverage options in town."
Bill was inspired by his love of coffee and the local community. "We both wanted to do something that would serve our friends and neighbors in Oskaloosa," he said.
With two lifetimes of construction experience, the duo knew how to create the custom two-story building that would hold their coffee shop and deli.
With seating on two levels, and a cozy fireplace and couches, their new shop invites guests to come and stay awhile. Gleaming white tile highlights the coffee bar, and a convenient drive-thru window serves coffee lovers on the go.
But with zero coffee or feed service expertise, the pair began looking for a coffee partner.
The search led them to Troyer's Mountain View Country Market and Bear Tracks Coffee in Limestone, Tennessee. Owners Jordie and Tim Troyer opened their coffee business in 2019 with Crimson Cup.
"We stopped by their store and liked what they had done," Bill said. "Jordie recommended Crimson Cup because of their customer service."
Led by an experienced 7 steps coffee shop startup consulting team, the program guides entrepreneurs through every aspect of starting and running a unique coffee shop serving their local community.
The program arose from the book, Seven Steps to Success: A Common-sense Guide to Succeed in Specialty Coffee, by Crimson Cup Founder and President Greg Ubert.
"Our 7 program is perfect for small business owners because it offers the support of a coffee franchise without franchise fees, royalties or business restrictions," Ubert said.
"Our consulting services – including help with developing a coffee shop business plan, site evaluation, coffee bar design and layout, coffee equipment, on-site training, marketing support, menu ideas and much more – are designed to help reduce costs, increase profits and eliminate potential headaches."
The program has helped over 300 entrepreneurs across the U.S. open their coffee shops. Many have been in business for 10 to 20 years. And some coffee shop owners are now operating multiple locations.
7 Steps Project Manager and Trainer Steve Bayless helped design the coffee house, then traveled to Oskaloosa the week before the soft opening.
There, he taught the Yoders and their baristas to prepare drinks and to run the coffee house, staying through opening day to ensure everything ran well.
Bill found Steps Five, Six and Seven especially helpful in learning how to run their coffee shop. "Training, Customer Service, and Cleanliness are just the top! Super helpful. Not sure how people do this on their own."
"The Troyers were right about Crimson Cup's customer service," he added.
"There is no reason to have a contract with them because they always do what they say they will do. The equipment and consulting have been well worth our investment."
He said anyone who is thinking about owning a coffee shop should definitely get training. "Crimson Cup pulls everything together, and I wouldn't have wanted to do this any other way. Their program makes everything so smooth."
After a successful opening, the Yoders invite everyone in Oskaloosa and Jefferson County to visit Walnut Street Coffee and Deli and to look for Grand Opening celebrations in March.
"We want to be a light and a witness to the community, to reach out and help people," Lynwood said. "We may start hosting a kids Bible study group in the space in the evenings after closing time."
The coffee and espresso-based drinks supplied by Crimson Cup are winning rave reviews.
"Everything from amazing coffee and espresso crafted drinks, delicious fresh baked pastries, muffins and cinnamon rolls, and a cozy atmosphere with plenty of seating upstairs and downstairs," wrote one Facebook reviewer. "I'll be back for sure! Can't wait to try the deli."
Walnut Street Coffee and Deli is open five days a week at 409 Walnut Street in Oskaloosa. Follow the store's Facebook Page for news about new menu items and the shop's Grand Opening in March.
About Crimson Cup Coffee & Tea
Founded in 1991, Crimson Cup is at the forefront of the coffee industry. Its attentive roasting, startup support and global partnerships are consciously designed for the greater good of communities around the world. Among other national recognitions, the company has earned 2020 and 2017 Good Food Awards, the 2019 Golden Bean Champion for Small Franchise/Chain Roaster and Roast magazine's 2016 Macro Roaster of the Year.
Crimson Cup travels the world searching for the perfect cup – driven by meaningful relationships, honesty and a shared vision for the future. Its Friend2Farmer initiatives foster respect and decency through mutually beneficial collaboration across local and global communities.
Through its 7 Steps to Success coffee shop startup program, the company teaches entrepreneurs how to open and run independent coffee shops in their local communities. By developing a coffee shop business plan, entrepreneurs gain insight into coffee shop startup costs.
Crimson Cup coffee is available through over 350 independent coffee houses, grocers, college and universities, restaurants and food service operations across 30 states, Guam and Bangladesh. The company also owns several Crimson Cup Coffee Shops and a new CRIMSON retail flagship store. To learn more, visit crimsoncup.com, or follow the company on Facebook and Instagram.