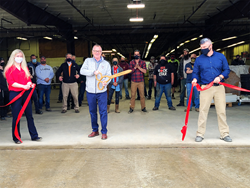 NORWOOD, Mass. (PRWEB) May 11, 2021
Walpole Outdoors, a leading provider of wood and AZEK solid cellular PVC outdoor structures, announced today the opening of its expanded manufacturing facility in Maine.
Located in the town of Pittsfield, the 9,000 sq. ft. space will build upon the company's existing 90,000 sq. ft. manufacturing footprint in Maine, with the goal of increasing capacity, improving efficiency, and reducing cost of quality. The new space includes manufacturing areas, as well as two additional loading docks, which will allow increased freight capacity.
"This expansion is going to be critical for us," said Robert Hayes, VP of Manufacturing. "We had begun to outgrow our existing space, so this will allow us to innovate and meet the rising demand for Walpole products in the marketplace."
The increased space will also allow Walpole Outdoors to grow its workforce by as many as 20 positions. When asked about this, CEO Peter O'Connell cited the company's history in the area as one of the deciding factors on making this investment.
"We love the state of Maine and our workforce there. It is home to the craftsmen and women who build the most beautiful outdoor products for the nation's most discerning homeowners. When it became apparent that we needed to grow our manufacturing capabilities, there was never a doubt that Pittsfield was our first choice to do that."
About Walpole Outdoors
Since 1933, Walpole Outdoors has crafted premium, American-made products that enhance the finest homes and commercial properties. Walpole Outdoors fences, pergolas, gates, arbors, and other premium products are available in a wide range of traditional, contemporary, and historical designs. The company provides free professional design consultations, and many elements can be customized to complement existing architecture or suit a client's personal style. Walpole is the #1 fabricator of AZEK solid cellular vinyl, and the company offers unique collaboration capabilities to architectural and landscape professionals throughout the entire design and manufacturing process. Walpole Outdoors products can be found nationwide through a network of distributors and retail locations, as well as online at walpoleoutdoors.com.