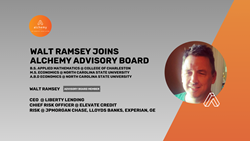 "I am excited to once again work with Tim Li and have an opportunity to interact with the team at Alchemy. " said Walt Ramsey. "As the fintech market continues to mature, there is an ever-increasing need for more complex platform to manage financial products across the credit lifecycle"
AMERICAN FORK, Utah (PRWEB) February 18, 2020
Alchemy Technologies ("Alchemy") a leading FinTech infrastructure development company based in American Fork, Utah welcomes Walt Ramsey to its Advisory Board.
Walt Ramsey previous served as the Chief Executive Officer of Liberty Lending, LLC, a New York based personal financing company where he grew the portfolio from less than $70 million to over $120 million in 6 months.
Prior to Liberty Lending, Walt Ramsey served as the Chief Risk Officer at Elevate, a tech-enabled online financial services company based in Forth Worth, Texas. He also served Elevate's predecessor Think Finance as its Chief Risk Officer.
Walt Ramsey held various senior leadership as well as executive position at JPMorgan Chase, Lloyds Bank, Experian, GE Consumer Finance, Associates (Acquired by Citigroup) as well as First USA Bank.
"I've had the absolutely pleasure working with Walt at JPMorgan Chase and Think Finance," said Timothy Li, CEO of Alchemy. "Walt's experience and vision has helped me throughout my career and his leadership will guide Alchemy to the next level."
Graduated from North Carolina State University, Walt received his Masters Degree in Economics, Statistics and ABD in Economics. He also holds a B.S. degree in Applied Mathematics from the College of Charleston.
"I am excited to once again work with Tim Li and have an opportunity to interact with the team at Alchemy," said Walt Ramsey. "As the fintech market continues to mature, there is an ever-increasing need for more complex platform to manage financial products across the credit lifecycle."
About Alchemy Technologies.
https://www.trustalchemy.com/
Alchemy Technology Inc. is industry-first fintech infrastructure company offering out of the box technology, algorithms and servicing to launch financial products for Banks, Specialty Financing Companies, Point of Sale Financing and FinTech startups alike. Our low cost leasing solution reduces barrier to entry and bring tremendous value both in our software and our industry know how. Our end-to-end infrastructure offering includes end user experience, merchant experience, loan origination system, decision engine, loan management system, payment gateways, and secondary market access. Follow us on LinkedIn and Twitter.