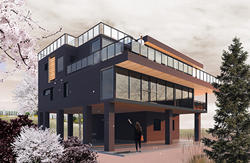 "We want to provide our clients with a full range of services from architecture and realty to custom homes," said Matthew Gaudet-Walters, Director of Business Development for Walters Homes. "We are one team that takes care of everything."
MANAHAWKIN, N.J. (PRWEB) February 05, 2019
Walters Homes, the Jersey Shore's premier homebuilder, offers homebuyers completely complimentary architectural and design services, allowing them to work with in-house architects to design their new home.
Walters Homes encompasses three separate divisions that include Architecture, Realty and Custom Homes. Together, the award-winning homebuilder represents a truly one-stop shopping experience for homebuyers. "We want to provide our clients with a full range of services from architecture and realty, to custom homes," said Matthew Gaudet-Walters, Director of Business Development for Walters Homes. "We are one team that takes care of everything."
Arnold Boyle, AIA leads Walters Architecture, and has a project manager and two junior architects on his team. "Walters Architecture offers a customized approach to building a new home," said Boyle. "Whether it's a traditional shore colonial or a contemporary marvel, our team is able to meet the needs and desires of our homebuyers."
Walters Architecture is based at the Walters Homes Design Center in Barnegat and is consistently exploring new ideas in the coastal market. Most recently, they have moved toward new technology such as 3D design platforms. The team currently utilizes Building Information Modeling (BIM) that allows them to collaborate with clients who can instantly visualize their future home. "BIM is an intelligent 3D model-based process that gives architecture, engineering and construction professionals the insight and tools necessary to be more efficient throughout the planning, designing and construction phase," Boyle added.
This new level of customer offerings allows clients to work one-on-one with an experienced architect who can design their new home from scratch or tweak a pre-designed plan. "Our experienced architectural team will take your older home, storm-damaged home, empty lot or nothing at all, and transform it into a custom home you adore," said Gaudet-Walters. "The best part is that this service is complimentary, so you can sit back and design the perfect custom home with modern innovations and technology that fit your budget and style."
To learn more about Walters Architecture, visit waltershomes.com or call 609.597.6999.
About Walters
Walters offers three divisions, Architecture, Custom Homes and Realty, to offer all-inclusive services that seamlessly bring a homebuyer's dream vision to reality. Walters Architecture is a completely complimentary service that allows homebuyers to work with in-house architects to design the perfect home with modern innovations and technology. Walters Realty offers full-service brokerage experts that help homebuyers find the right homesite depending on their desired location. Walters Custom Homes offers newly designed custom home plans that help homebuyers through the homebuilding process. Every custom home built by Walters meets or exceeds the energy efficiency requirements for ENERGY STAR® certification. Walters Homes is located at 880 Mill Creek Road, Manahawkin, NJ 08050. To learn more, call 609.597.6999 or visit waltershomes.com.