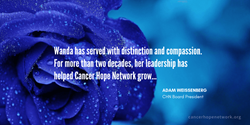 "Wanda has served with distinction and compassion. For more than two decades, her leadership has helped Cancer Hope Network grow…" ~ Adam Weissenberg, Board Chair
CHESTER, N.J. (PRWEB) November 15, 2018
After 22 years at the helm, Cancer Hope Network Executive Director Wanda Diak will retire December 2018. Under her guidance, the organization has transformed from a loosely-organized group of dedicated New Jersey volunteers to a patient-focused team of more than 400 volunteers and staff that serves clients in the US and Canada. Cancer Hope Network Support Volunteers have faced more than 80 types of cancer and speak 15 languages.
Following her own bout with ovarian cancer, she joined the Cancer Hope Network (Then known as CHEMOcare) in 1997 as part of a Loaned Executive program through AT&T. What was supposed to be a two year volunteer project soon became a second career.
"Cancer Hope Network has been an opportunity to fulfill a promise I made to myself during a particularly dark time of treatment," Diak recalls. "I swore that if I had a good outcome to my treatment, I would help others who are facing a similar diagnosis. As a Support Volunteer, I've been able to help nearly 300 clients. As Executive Director, I've been able to lead the team that's facilitated more than 33,000 matches between cancer survivors, patients and caregivers."
"Wanda has served with distinction and compassion," said Board President Adam Weissenberg. "For more than two decades, her leadership has helped Cancer Hope Network grow by leaps and bounds, building partnerships across the nation and developing innovative programs like TACT (Talking About Clinical Trials). She leaves big shoes to fill, but has positioned CHN to continue creating hope and connection for cancer patients and their loved ones."
For more information, or to schedule an interview with Diak, please contact Sarah Miretti Cassidy, Director of Marketing. scassidy(at)cancerhopenetwork.org | 908.879.4039 ex 20
To learn more about Wanda's impact visit http://www.cancerhopenetwork.org/Wanda
About Cancer Hope Network
Cancer Hope Network provides free one-on-one emotional support to adult cancer patients and their loved ones. Each of CHN's 400+ volunteers is at least one year post-treatment or successfully undergoing maintenance therapies. They have faced more than 80 cancer types and speak 15 languages. Our volunteers offer support from diagnosis, through treatment and into recovery. Cancer Hope Network serves cancer patients in the United States and Canada.