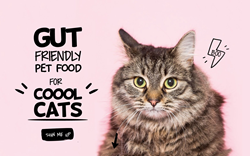 LONDON (PRWEB) December 11, 2018
- New research from responsible pet food brand Scrumbles reveals that almost half of Brits rely on their own instincts to sense when their pet is unwell

More than half of UK dog owners don't realise that changes in their pet's poo can indicate gut health problems such as parasites and pancreatitis
#CheckThePoo is a new campaign encouraging pet owners to look for changes in their dog or cat's poo in order to catch health problems early
How do owners know their pet is feeling poorly? Owners might think they have a sixth sense for when their furry friends aren't feeling their freshest, but they are relying too much on their instincts and missing tell-tale signs that are (literally) under their noses?
Responsible pet food brand Scrumbles are today launching a campaign to encourage owners to check for the signs of poor animal health this festive season in a rather unusual place: their pet's poo.
Research released today, surveying over 1,000 dog and cat owners, has revealed that British pet owners are more likely to rely on their own instincts to tell if their pet is unwell than to look for changes in their pet's toilet habits. Nearly half of dog and cat owners (47%) say they can sense when something is wrong with their pet, while more than half (59%) of dog and cat owners miss the connection between poor poos and/or changes in their animal's toilet habits as an indicator of poor health.
Changes in smell, texture and frequency of dog and cat poo can be indicators of internal health issues including poor diet, parasites or even pancreatitis and Scrumbles' #Checkthepoo campaign urges dog and cat owners alike to do so every day if they're to catch nasties early.
Scrumbles co-founder Aneisha Soobroyen said: "Cats and dogs can't speak for themselves and often suffer in silence so we came up with #Checkthepoo to highlight the issue to pet parents. A quick check of your pet's poo can help you uncover problems early; before the onset of more serious issues."
The research comes at an important time of the year, as animal lovers across the UK treat their pets over the festive period, slipping food under the Christmas dinner table to their pets or splurging on special dog and cat treats. However, vets report a surge in pancreatitis during the holiday season, so being vigilant of their animal's gut health is as vital as ever in the lead up to Christmas.
London neighbourhood vet, Dr Rory Cowlam said: "Of course it's tempting to sneak your pets a tasty treat from your plates, especially at this time of year. But beware, fatty cut offs from your dinner can make your pets ill and Christmas brings a lot of chocolate, raisins and other toxins which can all be dangerous to your pets."
To sit alongside the campaign, Scrumbles encourage pet owners to be aware of 'no-go foods' for their pets. These include:

Grapes and raisins
Cheese
Alcohol
Chocolate
Fatty and fried treats
Onions, garlic and other members of the allium family
Cooked bones
The survey also found more than one in eight (14%) respondents confessed to not realising there's a problem until the vet steps in, and more than one in ten (12%) believe "their pet can tell them" when something is wrong.
Aneisha said: "Dealing with poo might not be a highlight of pet parenthood but taking a moment to have a look can reveal a lot about our pets' health. It may sound a bit grim but being aware of changes in our pets' toilet habits can help us catch gut health problems early, ensuring greater animal health and happiness."
The company, set up by Aneisha and husband Jack Walker, make gut friendly all-natural food for cats and dogs with added probiotics and limited ingredient recipes to promote better pet gut health, and healthy poos!
Jack said: "We all want what's best for our pet and key to that is making sure that they eat well to keep them in check - inside and out."
Scrumbles launched in June 2018 and is available online at https://scrumbles.co.uk, in Ocado, Fetch.co.uk Amazon and a number of independent pet specialist stores across the UK.
All recipes are made with natural, quality ingredients right here in the UK. The company has a commitment to give 10% of its annual profits to organisations and projects which support the health and wellbeing of cats and dogs in the UK. You can find out more about Scrumbles and view their full range of products on their website.
For more information or further comment from Jack and Aneisha, drop Aneisha a line at mailto:aneisha(at)scrumbles.co.uk or call 07852634802.
Previous coverage includes reviews from the number one cat and dog UK blogs as well as radio interviews with BBC Leicester.
Previous Coverage includes:
https://katzenworld.co.uk/2018/08/31/nubia-freya-and-renegade-scrumpdillyicious-new-cat-food-by-scrumbles/
http://missdarcy.org/it-all-began-with-the-gut/
https://www.yourlocalguardian.co.uk/news/17235724.croydon-based-natural-pet-food-brand-secures-150000-investment/
https://london-post.co.uk/local-start-up-on-a-mission-to-drive-happy-lives-for-cats-and-dogs/