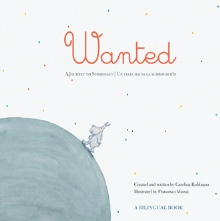 MIAMI (PRWEB) August 07, 2017
Carolina Robbiano's English-Spanish children's book, "Wanted: A Journey to Surrogacy / Un viaje hacia la subrogación" presents a child-friendly approach to helping children understand notions of surrogacy and explore the diversity of the world around them. The author is embarking on a marketing campaign to promote the book.
Featuring colorful illustrations of parents depicted as various species of imaginary creatures, Robbiano narrates her personal journey through the process of surrogacy. The book offers a simple message about families of all types to help children between the ages of 4 and 8 understand the many versions of parenthood.
Robbiano first searched for a book that could help tell her own child the truth about how he came into the world to complete her family. Her search for a book that could ease him into the process without making him insecure came up fruitless. So "I just decided to write the book I couldn´t find in the market," says the author. "This book is my tribute of love for my family," Robbiano says. "Many people were helpful as we went through our surrogacy journey. I wanted to pay it forward by making this work available to others who may find themselves in a similar situation. It's a small gesture to say 'thanks' and 'you are not alone.'"
Many types of families are depicted in "Wanted." Some have two parents; some have one. Some have parents living in different houses, or two moms, or two dads. Some children live with grandparents and some families have many children; others have none. "Becoming a family through nontraditional means is barely explored in children's literature," Robbiano says, "and yet it is an important story for children of such families. It assures them that they are loved and that being different is not only okay but it is certainly the new normal."
"Wanted"
By Carolina Robbiano
Softcover | 8.5 x 8.5 in | 42 pages | ISBN 9781480817548
E-Book | ISBN 9781480817555
Available at Amazon and Barnes & Noble
About the Author
Carolina Robbiano is a multilingual communications strategist and journalist with more than 20 years of experience writing, editing and traveling for Vogue, La Nación, Cuisine & Vins and National Geographic. She lives in Miami with her husband and son, where they happily celebrate the uniqueness of life and nontraditional families – a family of three that also blends different races, religions, languages and culture. More information is available at http://www.alpha-miami.com.
Simon & Schuster, a company with nearly ninety years of publishing experience, has teamed up with Author Solutions, LLC, the leading self-publishing company worldwide, to create Archway Publishing. With unique resources to support books of all kind, Archway Publishing offers a specialized approach to help every author reach his or her desired audience. For more information, visit archwaypublishing.com or call 888-242-5904.
###