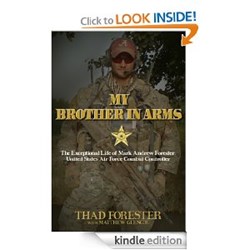 'My Brother in Arms' is not a memorial in print, but a biography for continuing Mark's legacy of perseverance, determination and accomplishing our missions on earth.
Haleyville, AL (PRWEB) September 28, 2013
In honor of the three-year anniversary of his brother's heroic death in Afghanistan, author Thad Forester proudly announces the publishing of his new book, "My Brother in Arms," a biography chronicling the life and death of his brother SrA Mark A. Forester.
Now available via paperback and Kindle, Forester, a first-time author, offers a unique perspective on the legacy of an American hero – a layered vantage point that only a brother could provide.
The book is available at http://www.markaforester.com or on Amazon at http://www.amazon.com/dp/B00FDWCIGE.
"Even though he died heroically by defending our freedoms, his life of commitment, determination and valor began long before he entered the Special Operations field at age 26," says Forester, reflecting on the life of his late brother. "Mark's military career was only a small part of his life, so this book doesn't highlight just the last three years of his 29 years on earth, but I've tried to capture his entire life."
From his family environment, to his spiritual beliefs, to his trials and then to his physical talents; Forester recounts the many attributes that prepared his brother to face his most vicious battles in one of the most violent areas of the world – battles that eventually claimed the soldier's young life.
After the passing of Mark A. Forester, his family created The Mark Forester Foundation to honor the American hero and to give back to the community that raised him up. With that, a portion of the sales from this new book will be donated to The Mark Forester Foundation, providing a college scholarship to at least one Haleyville High School student each year.
In the end, Forester insists that his new book and foundation are not the final words of his brother's story but simply a continuation of the example set by the late airman.
"'My Brother in Arms' is not a memorial in print, but a biography for continuing Mark's legacy of perseverance, determination and accomplishing our missions on earth. We each have different missions, but what's important is for each of us to recognize ours and work to accomplish it."