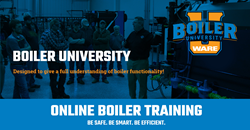 LOUISVILLE, Ky. (PRWEB) July 09, 2020
WARE is excited to announce that, in addition to our popular hands-on training, we are bringing our first BoilerU course online! WARE's Boiler University is a college-accredited program that offers an in-depth understanding of industrial boiler operation and safety. Students travel from across the country to attend our engaging courses and hear boiler professionals share their decades of field experience. Now, with our online platform, students can experience our foundational course, Boiler U 101, no matter where they are.
Our New Online Platform
WARE is committed to making our courses more accessible and affordable, without sacrificing quality. To make our students feel like they're in the training facility with us, we've taken the materials that we typically cover in a two-day, in-person course and added audio, curated video content, and other resources to develop an online curriculum that students can complete over 30 days.
This format allows students to move through coursework at their own pace, in the comfort of their homes—no more travel costs, hotels, per-diems, or time away from the office. We currently offer Boiler U 101 online for a significantly discounted rate.
Boiler U 101: What You'll Learn
Boiler U 101 is a seminar-style class that introduces you to boiler room fundamentals. Our media-rich, online format introduces beginners—those with less than five years of experience—to the inner workings of a boiler room. This course is perfect for anyone looking for an introductory class or a refresher. Whether you're an engineer, salesperson, maintenance worker, or an operator, Boiler U 101 is for you!