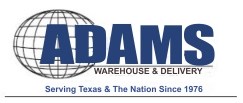 No matter the size of the order or amount of goods to be stored, we track and process each order flawlessly to give you a full service logistics solution. —Fred Adams
Houston, TX (PRWEB) October 09, 2013
Adams Distribution provides flexible warehousing services and reliable delivery solutions for all types of customers and all kinds of goods. They have over 30 years of experience in warehousing and are one of the most dependable logistic companies in Texas. They have three central warehouses located in Houston that service rail, trucks, and warehousing to local and national clients. They offer racked storage, floor storage, and provide dock distribution, wrapping, packaging, picking, and kitting services too.
When clients use Adams Distribution to store and transport their goods, they can be assured that their valuable goods and merchandise are stored correctly and safely. Adams Distribution has climate controlled storage for transporting food items, clean room facilities, and dry space to create the optimum environment for storing and delivering goods across the state and the country. Products that are entrusted to their care are inventoried using a cutting edge computer inventory tracking system that ensures nothing is lost or misplaced during transit. The electronic tracking system assures goods are tracked from the minute they enter the warehouse until they are transported to their final destination.
"No matter the size of the order or amount of goods to be stored, we track and process each order flawlessly to give you a full service logistics solution. You can trust us to keep your order safe, tracked, stored, and transported with the utmost care and respect," said Adams Distribution owner, Fred Adams.
As well as electronic inventory tracking and a controlled warehousing environment, Adams Distribution boasts weather-resistant masonry in its construction, meaning the changeable Texas weather won't damage any goods as they are stored in the Houston warehouse. Due to this level of protection, their warehouses stay dry and clients' products and goods are guaranteed protection from the elements.
To protect goods from theft or fire while being stored at the central Houston warehouses, Adams Distribution has installed 24-hour security cameras which are constantly monitored from one local station. There are also fire and burglary alarms in each warehouse location to ensure goods left in their care are fully secure. The warehouses are also equipped with a sprinkler system to protect clients' goods in case of a fire.
To work with one of the safest and most reliable logistics companies in Texas, use the contact details on this page to discuss your warehousing and delivery needs with the Adams Distribution team.