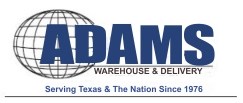 Every part of the supply chain is handled with expertise, care, and safety. That's why we're one of the most trusted logistics companies in Texas. — Fred Adams
Houston, TX (PRWEB) October 07, 2013
Professional logistics planning from Adams Distribution involves the safe and reliable receiving, storage, tracking, and shipment of clients' goods or merchandise throughout Texas and the US. Adams Distribution does a lot more than just warehousing, trucking, and transportation; they also record and track all orders that enter their Houston warehouse, ensure safe and protected storage, and transport goods via a dependable trucking fleet or via rail service.
The logistics planning process begins with entering a client's order into a computerized system. It's then transferred to an account manager who will handle all the processing and planning of the order's storage and shipment at the Houston warehouse. Next, thanks to Adams Distribution's dock services, goods can be received at their warehouses via rail and safely stored in fully protected warehouses until delivery is required.
"Because some food grade items and other general merchandise need special storage and care, Adams Distribution offers temperature controlled storage and transportation, dry space, rush delivery, and quick turnaround of short order goods. Every part of the supply chain is handled with expertise, care, and safety. That's why we're one of the most trusted logistics companies in Texas," assured company owner Fred Adams.
Once goods have entered the warehouses in Houston, they are all electronically inventoried by a secure computerized inventory system which tracks all goods from the receiving stage straight through to delivery. When Adams Distribution receives goods and merchandise from suppliers, they are thoroughly checked for quality assurance and then transferred to the warehouse, following the specific storage options chosen at the logistics planning stage.
Goods can then be delivered to suppliers or customers very quickly through the rush delivery and order service. Contract route delivery allows clients delivering locally in Houston or nearby in Texas to take advantage of these fast, reliable routes for speedy shipment of goods.
The crew in Texas will keep clients informed every step of the way; they'll update clients on tracking progress and expected delivery times to guarantee that clients are fully aware of their goods being received and delivered safely and in a timely manner. They help businesses develop a viable warehouse logistics strategy that will reduce costs and bring peace of mind when storing and transporting goods and merchandise around the country.
For more information about Adams Distribution's warehousing services and logistics planning services, use the contact details on this page to get in touch.