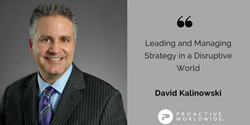 War games are particularly relevant in a fluctuating global marketplace facing disruption...
Chicago, IL (PRWEB) May 22, 2017
David Kalinowski, President of global market intelligence consulting firm Proactive Worldwide, Inc. will be sharing his expertise on Business War Game strategies at the Association for Strategic Planning's 2017 annual conference, "Leading and Managing Strategy in a Disruptive World."
ASP is a non-profit professional society dedicated to assisting people and organizations develop skills in strategic thinking, planning, and action. It partners with leading organizations like Proactive Worldwide to provide real-world continuing education and insights that explores cutting-edge strategic planning principles and practices that enhance organizational success and advance members' knowledge, capabilities, capacity for innovations, and professionalism. Kalinowski's session, "Leveraging Strategic War Games for Competitive Advantage," will be held on the first day of ASP's conference, from May 25 – May 26, 2017 in Toronto, Canada.
Kalinowski said Proactive Worldwide has long been a proponent of using business war games to engage management in collaborative, cross-functional thinking to identify and solve market challenges. He added, "War games are particularly relevant in a fluctuating global marketplace facing disruption, and when done right, can expose more predictively and proactively reliable pathways to help businesses strategically and tactically strengthen their position against competitors. Understanding the competitive mindset is essential to assessing the potential moves and countermoves market players may make, which in turn allows an organization to pressure test its own strategy to know if it needs to adjust or create a new one."
As co-founders of Proactive Worldwide, both David Kalinowski and Gary Maag are sought after as global thought leaders in the market intelligence field. For more information or to register for the conference, please visit: http://www.strategyassociation.org/page/2017ConfAgenda. When registering, you can use Kalinowski's personalized promotional code of "DK17" and receive a $100 discount.
About Proactive Worldwide, Inc.
Proactive Worldwide, Inc. is a global research and strategic intelligence consulting firm that provides evidence-based, constructive information within the competitive intelligence, market intelligence, and customer insights domains. Anchored by primary source research for over 21 years, Proactive's multilingual professionals assist our clients with offerings that include but are not limited to competitive research and assessment services, market entry and defense strategies, war gaming simulations and scenario planning events, and customer experience and user experience studies. To learn more, visit http://www.proactiveworldwide.com.