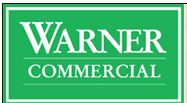 FREDERICK, Md. (PRWEB) March 06, 2020
When Warner Commercial heard that Attaboy Beer was interested in expanding, the immediate need was to figure out how to keep them at Carroll Creek Business Center. At the time only large spaces, warehouse and storage in nature, were available.
One walk through the old tractor showroom with some exploration of the ceiling immediately revealed the space's potential based on what the client was looking to establish.
A ladder, removing a section of the first drop ceiling and a saw through the upper ceiling revealed the domed roof's structural supports - which are now exposed - presenting a great option.
Warner Commercial set up a walk through for the building owner and the Ogdens, who own Attaboy Beer.
After more than six months visioning, planning, and permitting, Warner Commercial is pleased to announce that Attaboy Beer's Barrel House is open, an expansion for this relative new comer to historic, Downtown Frederick. And the landlord has a strong tenant.
Attaboy Beer still occupies its current location and on Saturdays will offer small and large pours as well as bottles to go in Attaboy Barrel House. The new location is dedicated to barrel aging and blending. The focus in the new space is on tart, fruity and funky beers aged in wine barrels.
Warner Commercial was originally recruited to market the property and find new tenants. While the transformation of Carroll Creek Business Park has taken a number of years, the changes the owner was willing to make have resulted in major changes in the property's use and an uptick in rent rolls at the campus. To learn more, check out this white paper — a case study of Carroll Creek Business Park's transformation.
Check out the Attaboy Barrel House website to learn about what they are barrel brewing and see even more great pictures of the space and "fancy" beers. Getting ready for an event or wedding, you'll want to visit them this Sunday.
Warner Commercial strives to develop lasting relationships, while always implementing a win-win approach to leasing for tenants like Attaboy Beer and their landlord.
Have a property to lease? Or looking to make a move or grow your business?
Let Warner Commercial redefine your commercial real estate experience and assist with commercial real estate goals. Call Warner at 301-663-0202.