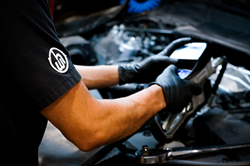 "The shortage of automotive service technicians is undeniable, but we want to be part of the solution. That's why we have come up with this incredible initiative that is also going to contribute to the growth and education of technicians in our community" Warren Zinn, Chief Executive Officer of Warr
MIAMI (PRWEB) July 17, 2020
Warren Henry Auto Group is pleased to announce the new Warren Henry Technician program in partnership with Miami Dade Public Schools. The automotive industry is experiencing a technician shortage and Warren Henry Auto wants to be part of the solution. The industry keeps growing, therefore this technician program is going to allow us to grow our own technicians. With this initiative, we are hoping to reduce the current shortage of technicians in South Florida and use this platform as a recruiting tool.
As part of the shortage solution, Warren Henry is launching WHT, Warren Henry Technicians program. The program is designed to welcome 20 students and has a duration of two years. It includes classroom and hands-on instruction reinforced with high-tech computerized learning systems. The content of this incredible program is directly related to the areas of The ASE Certification and includes on-the-job internship training experiences at Jaguar Land Rover North Dade.
This certification program will start on August 24, 2020, and is a great opportunity for aspiring technicians to learn and get experience through in the lab training. Students will also have the benefit of being supervised by the best-certified master technicians in South Florida. Here at Warren Henry Auto Group, we are very excited to introduce this local initiative which is going to help with the education of those interested in working in the automobile industry across the US. "The shortage of automotive service technicians is undeniable, but we want to be part of the solution. That's why we have come up with this incredible initiative that is also going to contribute to the growth and education of technicians in our community" Warren Zinn, Chief Executive Officer of Warren Henry Auto Group.
Regarding Warren Henry Auto Group
Warren Henry Auto Group, founded in 1976, is one of the most longstanding automotive dealerships in Florida. Their reputation is based on quality, community support, and appreciation towards their employees. Warren Henry Auto Group carries a variety of vehicle brands such as Jaguar, Land Rover, Infiniti, Audi, Lamborghini, Bugatti, Koenigsegg, Toyota, Ford, Chrysler, Dodge, Jeep, and RAM. Warren Henry Auto Group's corporate office is now located at 2300 NE 151st Street in North Miami. For more information, call (305) 690-6006 or visit http://www.warrenhenryauto.com.