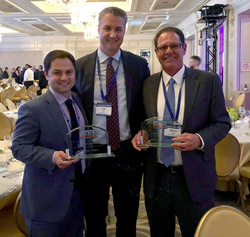 "It's great to be honored," said Zinn, "But we'll stay humble knowing we have to earn our place with our customers every single day, and that the only way to do that is through the efforts of our top-notch staff."
MIAMI (PRWEB) November 09, 2018
Warren Henry Auto Group, South Florida's premier luxury auto group, announced that five of its dealerships have been recognized as Automotive News' "100 Best Dealerships to Work For." Not only did Warren Henry Auto Group's Lamborghini Broward again secure a spot in the Top 10, but all dealerships recognized placed in the Top 20: Audi Gainesville new to the list at number 17; repeat listings for Land Rover North Dade and Warren Henry Jaguar tied at number 15; and a repeat listing for Warren Henry Infiniti at number 12.
The Automotive News "Best Dealerships to Work For" program is a national program managed by the Best Companies Group. This survey and recognition program is dedicated to finding and recognizing the 100 best dealerships out of 18,000 total in the United States. Each dealership completes an employer benefits and policies questionnaire, and each employee must complete a confidential employee engagement and satisfaction survey which consists of approximately 72 statements that employees respond to on a five-point agreement scale. The survey can either be filled out online or by paper survey. Selection criteria include working conditions, benefits, professional development opportunities and work-life balance as reported by dealership employees themselves.
"Our goal is to provide an environment in which our team members feel engaged and empowered," said Larry Zinn, Organizational General Manager for Warren Henry. "Our staff is dedicated and driven, and when we provide a culture that allows them to be their best, we know—we've absolutely seen firsthand—how that translates into exceptional customer service."
This latest honor was a welcome addition to a year full of recognition: Warren Henry Auto Group was named to South Florida Business Journal's 2018 Fast 50 list, which recognizes the region's 50 fastest-growing private companies, and had three of their dealerships-- Land Rover North Dade; Land Rover South Dade and Warren Henry Infiniti-- named to the J.D. Power "Dealers of Excellence List."
Larry Zinn himself received an honor as well earlier this year: inclusion in the seventh annual Automotive News listing of 40 Under 40 in Auto Retailing, a list intended to recognize "industry standouts today… poised to be tomorrow's leaders."
"It's great to be honored," said Zinn, "But we'll stay humble knowing we have to earn our place with our customers every single day, and that the only way to do that is through the efforts of our top-notch staff."
For more information about the "Best Dealerships to Work For" program, please visit http://www.bestdealershipstoworkfor.com.
About Warren Henry Automotive Group
Warren Henry Automotive Group has been in the automotive business in Florida for more than four decades. Today, the automotive group sells and services brands like Lamborghini, Jaguar, Land Rover, and Infiniti, in Miami-Dade & Broward Counties, as well as Audi in Gainesville and Toyota, Ford, Chrysler, Jeep and RAM in Key West, Florida. Warren Henry dealerships employ almost 400 people statewide. A new state-of-the-art headquarters for the Warren Henry Auto Group is currently under construction in North Miami on Biscayne Boulevard at SoLe Mia, a $4 billion, 183-acre multi-purpose master planned development.