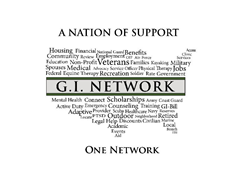 Arlington, VA (PRWEB) October 20, 2014
Warrior Gateway is proud to announce that its G.I. Network initiative has been selected as one of two finalists in the Veterans and Military Families category of the 501cTECH 2014 Technology Innovation Awards which will be announced on November 6, 2014. Presented by 501cTECH, an organization helping to build the capacity of nonprofits serving the common good by providing innovative and sustainable technology solutions since 1999, the Technology Innovation Awards are designed to recognize how great technology ideas can advance the important work nonprofits do to make communities better places to live.
"After five years of serving veterans and military families, we are honored to have been selected by 501cTECH as a finalist for the 501cTECH 2014 Technology Innovation Awards and would like to congratulate all the other finalists in all categories." said Devin B. Holmes, CEO of Warrior Gateway. "At its core, Warrior Gateway has always looked for new ways to utilize technology to support the entire nonprofit community and focused on building innovative technology solutions for veteran and military nonprofits."
Warrior Gateway's G.I. Network was developed in response to the growing disconnect between service providers and those searching for support in the veteran and military family community. This network fills a critical gap in information infrastructure as a nationwide resource that can be accessed by service members everywhere, to connect them to organizations and resources in their local community. It is an accurate, consistent and trustworthy link, bridge and introduction between the veteran, the military family and the service provider, as well as a resource to help organizations increase effectiveness, efficiency and reach.
Warrior Gateway believes collaboration between corporations, non-profits and government agencies is a critical way to solve social issues, such as those facing many veterans and military families during their transitions home. As an environment promoting growth and innovation, 501cTech's 2014 Technology Innovation Awards will serve as a unique opportunity for Warrior Gateway to share its experiences in providing technology resources for the veteran and military families nonprofit sector.
Warrior Gateway's mission is to connect veterans and their families to G.I. Network's 200,000 plus non-profit and government support organizations in their local community. By using innovative technology solutions, Warrior Gateway serves to fill the gap between service providers and those in need while also identifying strengths and areas of improvement within the military-focused nonprofit community.
About Warrior Gateway™: Founded in 2009, Warrior Gateway connects individuals in the military community with locally and nationally-based support organizations and programs, both non-profit and government. Warrior Gateway harnesses state-of-the art technology and community collaboration to help today's veterans make better decisions about what service providers they can go to for help, and have a public forum to share their experiences about the quality and effectiveness of those services. In 2011, Warrior Gateway's efforts were recognized with the Federal Computer Week Fed-100 award for significant contributions to the Federal IT community and in 2012 with a ComputerWorld Honors Laureate for our innovation in creating an open-source platform for information sharing. A proud partner of the Got Your 6 campaign, Warrior Gateway works to bridge the civilian-military divide with non-profit and government partners. For more information, please visit: http://www.warriorgateway.org