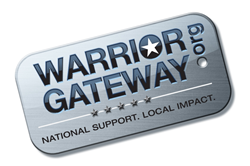 Arlington, VA (PRWEB) June 30, 2014
Award-winning nonprofit Warrior Gateway and Armed Forces Motorsports are kicking off a formal partnership with a Text 2 Give campaign this 4th of July weekend at the Daytona International Speedway for the NASCAR Sprint Cup Coke Zero 400 race to raise awareness and funds to support their veteran and military family initiatives. The BK Racing team will support the campaign as they promote both organizations logos on the number 83 Toyota Camry Sprint Cup car driven by Ryan Truex along with the "Text-to-Donate" call to action. The car will also feature the logo of hip-hop recording artist B Taylor's "1-Life Movement".
"Warrior Gateway firmly believes that collaboration across all sectors is critical in addressing the issues facing our nation's veterans and military families," said Warrior Gateway CEO Devin B. Holmes. "Through this partnership with Armed Forces Motorsports we believe we will be able to collectively elevate the level of services provided to veterans and military families."
To kick off the partnership, the two organizations are raising awareness and funds with the "Text-to-Give" campaign in which individuals can text the word AMERICA to 501501 resulting in a $10 charge to the individuals cell phone bill, which will be automatically donated to the campaign. Proceeds raised through the campaign will support Warrior Gateway's innovative tech initiatives to serve veterans and military families as well as the Armed Forces Motorsports Foundations' "Veterans Resource Summit" program. The campaign will also include the official launch of the 1-Life Movement, a program centered on B Taylor's new Hip Hop single release "1 Life." The weekend collaboration marks the beginning of an ongoing partnership between Warrior Gateway and Armed Forces Motorsports.
About Warrior Gateway™
Founded in 2009, Warrior Gateway connects service members, military families, wounded warriors, families of the fallen and our nation's veterans with government and non-profit programs in their local community. Warrior Gateway harnesses state-of-the art technology and community collaboration to help today's military community make better decisions about what service provider they can go to for help. Their programs provide a public forum where people can share their experiences about the quality and effectiveness of those services. In 2011, Warrior Gateway's efforts were recognized with the Federal Computer Week Fed-100 award for significant contributions to the Federal IT community and in 2012 with a ComputerWorld Honors Laureate for our innovation in creating an open-source platform for information sharing. A proud partner of the Got Your 6 campaign, Warrior Gateway works to bridge the civilian-military divide with non-profit and government partners. Warrior Gateway is an IRS registered 501(c)3 organization. For more information, please visit: http://www.warriorgateway.org.
About Armed Forces Motorsports Foundation:
The Armed Forces Motorsports Foundation is a Virginia-based, federally registered 501 (c) 3 Non-Profit Organization. AFMF was born in early 2013 out of necessity – a need to provide direct support to our veterans.
The Foundation's signature program is the "Veteran's Resource Summit." In short, the Summit is a one stop resource fair that will bring together local, state and federal agencies and organizations that serve our veterans. The summit will also serve as a platform to help veterans reintegrate back into their communities by bringing the two together.
About Armed Forces Motorsports:
Armed Forces Motorsports, LLC, is a federally registered non-stock Limited Liability Company based in Virginia. AFM is a Veteran Owned Business led by a retired U.S. Marine who developed and managed the Marines' NASCAR team.
The Armed Forces Motorsports Mission is to honor active duty service members, veterans, and the families of all military branches. The vision is to provide a positive impact to all whom we reach, while improving the quality of life for our military community through the thrill and excitement of motorsports.
About B Taylor:
B. Taylor is a man of many faces and talents. He uses his music and lyrics as a preferred weapon of choice. B is an honorably discharged Navy veteran, writer, producer, and a number one Billboard recording hip hop artist discovered by the classic Motown legends. B's passion to support veterans has led him down a path which combines his military experience with his love of music. His mission is the "1 Life - Movement of Unity", a spirit of togetherness through music that embraces the young and old, our active duty military, veterans, and their families. B's message through music is about hope – empowering everyone to live life to its fullest. Through his work in support of active duty servicemen and women, and all veterans, B is quickly becoming their "Ambassador" of music and entertainment.