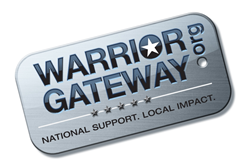 The launch of this new organization will only be successful with the commitment of collaboration across multiple sectors.
Arlington, VA (PRWEB) June 20, 2014
For the fourth consecutive year, Warrior Gateway's CEO Devin B. Holmes will be attending the Clinton Global Initiative's CGI America conference on June 23rd – 25th in Denver, Colorado. Hosted by former President Bill Clinton, Secretary Clinton and Chelsea Clinton, Devin B. Holmes will participate in CGI America as part of the high growth entrepreneurship working group to help drive innovation in the development of technology solutions for nonprofits.
"After five years of serving veterans and military families, we are taking the lessons learned and identifying new ways to utilize technology to support the entire nonprofit community," said Devin B. Holmes, CEO of Warrior Gateway. "CGI is a great opportunity to share our findings and begin to identify partners to support the launch of a new organization, Code 4 Philanthropy, which will only be successful with the commitment of collaboration across multiple sectors."
Warrior Gateway believes collaboration between corporations, non-profit and government agencies is a critical way to solve social issues, such as those facing many veterans and military families during their transitions home. As an environment promoting growth and innovation, CGI America will serve as a unique opportunity for Warrior Gateway to share its experiences and lessons learned during the launch of this new initiative to provide technology resources for the entire nonprofit sector.
Warrior Gateway's mission is to connect veterans and their families to our G.I. Network of over 200,000 non-profit and government support organizations in their local community. By using innovative technology solutions, Warrior Gateway serves to fill the gap between service providers and those in need while also identifying strengths and areas of improvement within the military-focused nonprofit community. Warrior Gateway's participation in the 2014 Clinton Global Initiative's CGI America conference will further these goals through collaboration with some of the nation's most innovative leaders and thinkers in the sector.
About Warrior Gateway™: Founded in 2009, Warrior Gateway connects individuals in the military community with locally and nationally-based support organizations and programs, both non-profit and government. Warrior Gateway harnesses state-of-the art technology and community collaboration to help today's veterans make better decisions about what service providers they can go to for help, and have a public forum to share their experiences about the quality and effectiveness of those services. In 2011, Warrior Gateway's efforts were recognized with the Federal Computer Week Fed-100 award for significant contributions to the Federal IT community and in 2012 with a ComputerWorld Honors Laureate for our innovation in creating an open-source platform for information sharing. A proud partner of the Got Your 6 campaign, Warrior Gateway works to bridge the civilian-military divide with non-profit and government partners. For more information, please visit: http://www.warriorgateway.org