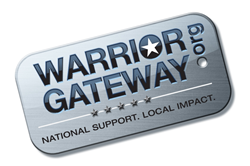 Costa Mesa, CA (PRWEB) June 04, 2014
On June 12th, Devin B. Holmes will attend the Healthcare Summit for Business Leaders on behalf of Warrior Gateway, to share insights on the importance of technology in the nonprofit sector to connect with and support our nation's veterans. The event will be held at The Center Club in Costa Mesa, Orange County, at 5:30 pm. As the nonprofit of choice for this event, all proceeds will benefit Warrior Gateway.
This event will explore new healthcare models for business and the increasingly effective and necessary role of technology in population health management. It will feature keynote speakers Steven Scott, VP/GM of Anthem Blue Cross and Precept's President Chris Martin with BB&T's Senior VP Frank Marrone sharing best practices and actual results that other CEOs and CFOs now use to take strong control of their expenditures.
"Warrior Gateway is looking forward to connecting with Orange County's business leaders to bring veteran issues to the forefront of the conversation," said Devin B. Holmes, CEO of Warrior Gateway. "As veteran healthcare reaches new heights as a hot topic in current affairs, Warrior Gateway has a unique opportunity to share our experiences and insights on this important issue."
Because of the important role healthcare plays in a veteran's transition home, Warrior Gateway is excited to be part of such a pivotal and innovative event. Warrior Gateway's mission is to connect veterans and their families to their local community and to the organizations G.I. Network, a network of over 200,000 non-profit and government support organizations. By using innovative technology solutions, Warrior Gateway serves to fill the gap between service providers and those in need while also identifying strengths and areas of improvement within the military-focused nonprofit community. All in the Orange County area who are interested in attending the Healthcare Summit are invited to register here.
About Warrior Gateway™: Founded in 2009, Warrior Gateway connects individuals in the military community with locally and nationally-based support organizations and programs, both non-profit and government. Warrior Gateway harnesses state-of-the art technology and community collaboration to help today's veterans make better decisions about what service providers they can go to for help, and have a public forum to share their experiences about the quality and effectiveness of those services. In 2011, Warrior Gateway's efforts were recognized with the Federal Computer Week Fed-100 award for significant contributions to the Federal IT community and in 2012 with a ComputerWorld Honors Laureate for our innovation in creating an open-source platform for information sharing. A proud partner of the Got Your 6 campaign, Warrior Gateway works to bridge the civilian-military divide with non-profit and government partners. For more information, please visit: http://www.warriorgateway.org
About Marrone for Healthcare: Marrone for Healthcare guides leaders who have more than 200 lives in their benefits plan with programs that inoculate them from the political and economic uncertainty of recent health care mandates. Through BB&T – the sixth largest agency in the world – they offer a disruptive healthcare program that rejects traditional reactive approaches and can reduce cost by up to 7% in the first year alone and builds on that in subsequent years.