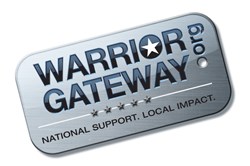 The growing Warrior Gateway leadership team will elevate the organizations ability to serve veterans and military families.
Arlington, VA (PRWEB) January 29, 2014
Warrior Gateway is proud to welcome to the team Zachry Riggle as Chief Operating Officer and Nathalia Magri as Chief Development Officer, as of January 2014. As a 2013 Sloan Fellow for Innovation and Global Leadership and a graduate from the MIT Sloan School of Management, Riggle is uniquely positioned to help Warrior Gateway launch its newest initiatives, while Magri brings multiple years of development experience to help support and grow Warrior Gateway's established programs.
During Riggle's eleven-year career as a United States Marine, Special Operations Officer and Intelligence Analyst, Zach led teams responsible for reducing instability within Iraq and Afghanistan while designing operations and strategies to enhance security, economic development and local governance. He specializes in identifying and solving complex issues involving incomplete information or uncertainty by collecting, integrating and analyzing multi-planar data. Prior to his work in Iraq and Afghanistan, Zach served as a White House Military Social Aide under President George W. Bush. He also held the billets of Director of Public Affairs for Marine Barracks "8th & I", Washington D.C. and Assistant Media Officer for Marine Corps Bases, Japan.
As a military spouse, Magri brings an important perspective to the Warrior Gateway family. Prior to her current position at Warrior Gateway, Magri held various positions in fundraising and development, most recently working as the Director of Corporate and Foundations Relations at University of Texas at El Paso. She holds a Bachelor of Science degree from University of Houston – Honors College, and was an El Pomar Foundation Fellow and a UNICEF Youth Ambassador.
"I am proud to welcome Zach and Nathalia to the team. They are both quite accomplished in their careers and bring a level of professionalism and experience that will elevate our ability to serve veterans and military families," said Devin B. Holmes, Warrior Gateway's Chief Executive Officer. "Connecting our nation's heroes and their families with our G.I. Network of over 200,000 non-profit organizations is core to our mission. This growing sea of goodwill shows how our nation continues to support those who have served."
As Warrior Gateway's new Chief Operating Officer and Chief Development Officer, Riggle and Magri will be helping the organization to increase its reach and impact on the military community through the strengthening of critical infrastructure to help connect service members, veterans and military families with the support they need in their local communities. To learn more about the Warrior Gateway team visit: http://www.warriorgateway.org/about/leadership.
About Warrior Gateway™: Founded in 2009, Warrior Gateway connects service members, military families, wounded warriors, families of the fallen and our nation's veterans with government and non-profit programs in their local community. Warrior Gateway harnesses state-of-the art technology and community collaboration to help today's military community make better decisions about what service provider they can go to for help. Their programs provide a public forum where people can share their experiences about the quality and effectiveness of those services. In 2011, Warrior Gateway's efforts were recognized with the Federal Computer Week Fed-100 award for significant contributions to the Federal IT community and in 2012 with a ComputerWorld Honors Laureate for our innovation in creating an open-source platform for information sharing. A proud partner of the Got Your 6 campaign, Warrior Gateway works to bridge the civilian-military divide with non-profit and government partners. Warrior Gateway is an IRS registered 501(c)3 organization. For more information, please visit: http://www.warriorgateway.org