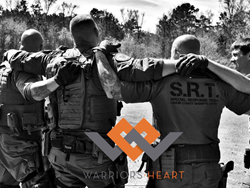 We know first-hand the pain and trauma our officers and other warriors can go through. Our mission is to provide a safe healing place for them to recover and be in service to them. ~ Lisa Lannon, Warriors Heart Co-Founder and Former Law Enforcement Office
Bandera, Texas (PRWEB) May 17, 2016
In sync with National Police Week (May 15-21), Warriors Heart announces a new partnership with Safe Call Now to support our protectors and reduce Law Enforcement Officer suicide, addiction and PTSD. The leading killer of Law Enforcement Officers is suicide (KSAT ABC News), and this must stop. Safe Call Now is working with Warriors Heart (along with other facilities), to assist in healing the trauma that police officers face daily when dealing with threatening situations.
Police officers are subject to high-stress, life-threatening tasks each and every day. The danger is 24/7 on and off duty. Because of the oath our Police Officers take, they are always on the battlefield. To protect itself, the mind can create fear and distances from others to keep officers alert. This often can lead to addiction (to numb the pain), PTSD, and sadly suicide.
To help our warriors heal from addiction, PTSD, and trauma, "Safe Call Now is a comprehensive 24-hour crisis referral service for all public safety employees, all emergency services personnel and their family members nationwide." As the Founder of Safe Call Now and a 20-year veteran Police Officer, Sean Riley knows first-hand the challenges of addiction and suicidal thoughts. Sean is introducing the Warriors Heart program at the US Congressional Law Enforcement Caucus this week.
With this new partnership, Safe Call Now will work with Warriors Heart to team with different departments across the US in providing treatment services. Warriors Heart is the first private addiction treatment in the U.S. for warriors only (military, veterans, law enforcement and first responders), and is also available 24-hours through their crisis line and serving those struggling with addiction, PTSD and other mild reoccurring challenges. The Warriors Heart peer-to-peer residential and outpatient services treat the "whole body", and the team is dedicated to supporting U.S. protectors.
As a Warriors Heart Co-Founder and Former Law Enforcement Officer, Lisa Lannon, shared, "We know first-hand the pain and trauma our officers and other warriors can go through. Our mission is to provide a safe healing place for them to recover and be in service to them. To get them back on the job as their best selves and free from the cases that haunt the mind is what we are about. Warriors healing warriors."
There is a stigma in the Law Enforcement and First Responder community that officers must be strong and can't show weakness. Warriors Heart and Safe Call Now are here to show that it's okay to acknowledge the toll the job can take on a person, and it is okay to seek help.
For a timely interview, please contact
Liz Kelly, Goody PR, 310-987-7207
About Safe Call Now (Seattle, Washington):
Safe Call Now was established in April of 2009 in the hopes that no other officer, first responder or public safety employee should have to walk through a crisis alone. Spearheaded by Lt. Governor Brad Owner of the State of Washington, Congressman Dave Reichert and Gil Kerikowski, former drug Czar for President Obama, legislation was passed in Washington State that protects all first responders nationwide, civilian support staff and their family members with a confidentiality guarantee if they come forward and ask for help. Sean Riley, Founder and President, threw away his almost 20-year career as a stellar police officer due to alcohol and drug addiction and was headed towards suicide to become another unknown statistic. Riley decided to do something about it, and started Safe Call Now (205-459-3020). https://www.safecallnow.org/
About the Warriors Heart (Bandera, Texas):
Warriors Heart provides a peer-to peer based solution to help the over 13.3 million American Warriors (Military, Veterans, Law Enforcement and First Responders) faced with the self-medicating struggles of alcohol addiction, prescription and drug addiction, PTSD (post traumatic stress disorder) and mild TBI (Traumatic Brain Injury) in a private, 40-bed facility. Along with a 28-day peer-to-peer residential treatment program, Warriors Heart will give "Warriors" the option of Day Treatment, Outpatient, and Sober Living (60 Day Minimum). With decades of experience in addiction healing, military service and law enforcement, the 3 Warriors Heart Founders (CEO Josh Lannon, former Law Enforcement Officer Lisa Lannon and former Special Forces Tom Spooner) are leading the team on this special mission of warriors healing warriors. Warriors Heart has also partnered with Mission 22. Warriors Heart Founders' work has been featured in Forbes, Chicago Tribune, KENS5 CBS News San Antonio, FOX 10 News Phoenix and Addiction Pro magazine. There is a 24-hour Warriors Heart hotline (844-448-2567) answered by warriors. http://warriorsheart.com