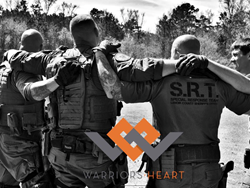 We are the only private center in the nation who is fully focused and dedicated to healing our warriors. ~ Lisa Lannon, Warriors Heart Co-Founder and Former Law Enforcement Officer
San Antonio, Texas (PRWEB) November 22, 2016
The Joint Commission and Warriors Heart are proud to announce that Warriors Heart has officially received the Gold Seal of Approval® for Behavioral Health Care Accreditation. Warriors Heart is the first and ONLY private, fully licensed and accredited 40-bed residential treatment center in the U.S. dedicated solely to healing our nation's warriors (military, veterans, law enforcement, fire fighters and first responders) battling addiction, PTSD and other co-occurring disorders.
Tracy Griffin Collander, LCSW, Executive Director, Behavioral Health Care Accreditation Program, The Joint Commission shared, "We commend Warriors Heart for its efforts to elevate the standard of care it provides and to instill confidence in the community it serves."
"We are the only private center in the nation who is fully focused and dedicated to healing our warriors. We recognize the current solutions are just not working as evidenced by the epidemic of addiction and PTSD amongst our warriors. We have chosen to take the lead by providing a new solution with peer-to-peer healing so our warriors can heal with dignity and respect," commented Lisa Lannon, Former Law Enforcement Officer and Warriors Heart Co-Founder.
Warriors Heart is located on a 543-acre ranch in Bandera, Texas, just 46 miles northwest of the San Antonio International Airport. The program focuses on serving our protectors (men and women) as there are no other programs out there specific to Warriors only. While other private treatment centers have "warrior tracks," the warriors are mixed with civilians. What makes Warriors Heart unique is the program treats chemical dependencies, mental health and PTSD challenges together using a "Warriors Only" approach. It's warriors healing warriors so clients can feel safe to share amongst peers.
This Gold Seal of Approval® by The Joint Commission is a symbol of quality that reflects an organization's commitment to providing safe and effective care. Warriors Heart has received this accreditation for demonstrating continuous compliance with its performance standards.
To achieve this accreditation, Warriors Heart has been open since April 2016, and underwent a rigorous onsite survey on October 12, 2016. During this extensive review, compliance with behavioral health care standards were evaluated in several key areas, including care, treatment, services; environment of care; leadership; and screening procedures for the early detection of imminent harm. Onsite observations and interviews also were conducted with the staff and medical team.
For a timely media interview, please contact Liz Kelly, Goody PR, 310-987-7207
About the Warriors Heart (Bandera, Texas):
Warriors Heart is the first and only private treatment center in the U.S. to provide a peer-to peer based solution solely dedicated to warriors to over 13.3 million American Warriors (Military, Veterans, Law Enforcement and First Responders) faced with the self-medicating struggles of alcohol addiction, prescription and drug addiction, PTSD (post traumatic stress disorder) and mild TBI (Traumatic Brain Injury) in a private, 40-bed facility. Along with a 28-day peer-to-peer residential treatment program, Warriors Heart will soon also have the option of Day Treatment, Outpatient, and Sober Living (60 Day Minimum). With decades of experience in addiction healing, military service and law enforcement, the 3 Warriors Heart Founders (CEO Josh Lannon, former Law Enforcement Officer Lisa Lannon and former Special Forces Tom Spooner) are leading the team on this special mission of warriors healing warriors. Warriors Heart work has been featured in Forbes, Chicago Tribune, CBS Health, Newsmax, KENS5 CBS News San Antonio, FOX 10 News Phoenix, PoliceOne, Woman's Day, Addiction Pro magazine and many other media. There is a 24-hour Warriors Heart hotline (844-448-2567) answered by warriors. http://warriorsheart.com
About The Joint Commission:
The Joint Commission is an independent, not-for-profit organization that accredits and certifies nearly 21,000 health care organizations and programs in the United States. Founded in 1951, The Joint Commission seeks to continuously improve health care for the public, in collaboration with other stakeholders, by evaluating health care organizations and inspiring them to excel in providing safe and effective care of the highest quality and value. The Joint Commission is the nation's oldest and largest standards-setting and accrediting body in health care. Learn more about The Joint Commission at http://www.jointcommission.org.