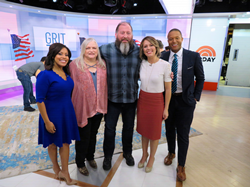 There is absolutely nothing I will not do to pass this on to the next person, and save as many lives as I can. ~ Warriors Heart Alumni and U.S. Army Master Sergeant (ret) Teddy Lanier
BANDERA, Texas (PRWEB) May 28, 2019
Warriors Heart Alumni and Green Beret (ret) Teddy Lanier is now sharing how Warriors Heart residential treatment center "saved his life" to encourage fellow warriors (military, veterans and first responders) to seek help. After two years in long-term recovery (April 2019) and being addicted to opiate pain pills for 17 years, Lanier emphasized in a recent TODAY Show interview, "There is absolutely nothing I will not do to pass this on to the next person, and save as many lives as I can."
After serving for 22 years (1989-2011), including 10 years in the U.S. Army and 12 years in Special Forces, Lanier struggled with PTSD, drug and alcohol addiction. Lanier was deployed five times to combat in Iraq and Afghanistan, and adjusting back to civilian life brought many challenges. Lanier explained, "I became dependent upon drugs and alcohol, not only to deal with the average normal everyday stressors, but also dealing with unprocessed trauma that I didn't know how to deal with."
While Lanier explains that substance abuse has been a part of his life for many years, an opiate prescription after dental surgery in 1990 right before Desert Storm is what started "his addiction to opiate pain medication." Two times throughout the 1990s, Lanier had additional injuries that required an opiate medication prescription. By the year 2000, Lanier admits he could not live without opiates and it impacted every part of his life. Lanier took pain pill prescriptions for 17 years, and explained, "opiate medication would eventually drive me to a place that no human being should ever have to experience."
In April 2017, Lanier could no longer do his job for the first time in 30 years, and knew it was time to seek help. Lanier searched on social media for help, and found Warriors Heart. Lanier reflected, "I'll never forget the day I called. I had never heard the voice of an angel until I called Warriors Heart."
Lanier explained that when he arrived at Warriors Heart, the team told him, "It's going to be ok. We're going to bring you home." Lanier credits his counselor and Warriors Heart Clinical Director Vonnie Nealon for "saving his life." Nealon, who was also interviewed on the TODAY Show with Lanier, commented, "When we welcome them back, we welcome them to a world they know."
Without Warriors Heart, Lanier says, "I would be dead, make no mistake about it...They gave me the tools to live." With the unacceptable average of 20 veteran suicides per day and 1 law enforcement officer every 62.5 hours in the U.S., Lanier is now sharing his story publicly in the hopes that it will inspire others to "pick up that 10,000-pound phone" and ask for help.
Lanier and Nealon emphasized that Warriors Heart is special because it's "warriors only" where military, veterans and first responders can openly share with peers who've had similar experiences and emotions. It's hard for protectors to be mixed with civilians, and this peer-to-peer program is a solution. The Warriors Heart residential treatment center was founded by successful treatment providers Josh and Lisa Lannon, along with Former Special Forces Tom Spooner to provide a safe place for warriors to heal.
Two years later, Teddy Lanier now serves on the Warriors Heart Foundation Board, is recognized by the community as a role model and hero, and speaks regularly about his long journey home. Lanier encourages everyone to get involved in the healing of our protectors by donating to Warriors Heart Foundation, listening and/or honoring those who have served.
Media Contact for Warriors Heart:
Liz Kelly: 310-987-7207
About Warriors Heart Foundation
Warriors Heart Foundation is a 501 (c)(3) that accepts donations to help heal our protectors with their peers. This foundation supplements insurance costs and provides some scholarships at Warriors Heart to help our military, veterans and first responders get the treatment they need and deserve.https://www.warriorsheartfoundation.org
About Warriors Heart (Bandera, Texas near San Antonio):
Warriors Heart provides the first and only private accredited treatment program in the U.S. for "Warriors Only" (military, veterans and first responders) faced with the self-medicating struggles of alcohol addiction, prescription and drug addiction, PTSD (post-traumatic stress disorder), mild TBI (Traumatic Brain Injury) and other recurring issues in a private, 40-bed facility on a 543-acre ranch. Along with a minimum 42-day peer-to-peer residential treatment program, Warriors Heart gives "Warriors" the option of Day Treatment, Outpatient, and Sober Living (60-day minimum). Warriors Heart's work has been featured on the TODAY Show, CBS Health Watch, KENS5 CBS San Antonio, FOX 11 Los Angeles, CBS 46 Atlanta, NBC Bay Area, ABC 10 San Diego, and in Forbes, Chicago Tribune, The American Legion Magazine, Addiction Pro magazine, San Antonio Express-News and many more. There is a 24-hour Warriors Heart hotline (844-448-2567) answered by warriors. https://www.warriorsheart.com