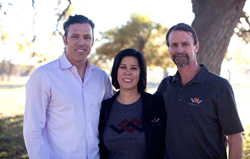 We found out that 22 veterans commit suicide per day and decided, we need to do something about it. We wanted to provide a safe place for warriors who put their lives on the line every day to heal with like-minded peers. - Josh Lannon, Warriors Heart CEO and Founder
SAN ANTONIO (PRWEB) April 22, 2021
Warriors Heart announces their 5-Year Anniversary on April 22, 2021, with a 2-week online celebration of their "Warriors Healing Warriors" program advancements and milestones. With 1500+ "Sober, Confident Warriors" completing the program since 2016, expanded facilities, dual-diagnosis treatment, enhanced modalities and new tools to rebuild lives, Warriors Heart is proud to provide solutions to help our frontline protectors heal with dignity and respect.
Warriors Heart is the first and ONLY private and accredited residential treatment program in the United States exclusively for "warriors" (active-duty military, veterans, first responders and EMTs/Paramedics) struggling with substance abuse, PTSD, mild TBI, and other co-occurring issues. Other than the VA (Veteran Affairs), there is nowhere else in the country where frontline protectors can heal with peers in an in-patient program for "warriors only" who understand their pain.
Based on 20+ years of experience in the addiction treatment industry, Warriors Heart Founders (Josh Lannon, Lisa Lannon and Tom Spooner) have built a professional team, who are dedicated to their "Vision" to "bring 1 million warriors home."

CEO and Founder Josh Lannon reflects, "We found out that 22 veterans commit suicide per day and decided, we need to do something about it. Otherwise, it would eat at our soul. We wanted to provide a safe place for warriors who put their lives on the line every day to heal with like-minded peers."
Former Special Forces and Warriors Heart Founder Tom Spooner served 22 years (1990-2011) in the U.S. Army and has been involved in recovery since 1992. Spooner helped build the core curriculum and emphasizes, "Warriors Heart is a very special thing. It's the only place that I've ever experienced where I can be 100% myself."
Former Law Enforcement Officer and Warriors Heart Founder Lisa Lannon added, "We really want to break the stigma that our warriors have to be tough, and it's not ok to get help. It is ok, and makes them stronger. It makes them stronger for their families and communities once they get rid of the emotional wounds."
Starting April 22, 2021, Warriors Heart will celebrate their "Strength Through Healing" curriculum and progress over the past five years, which includes:
1. Developed a full Continuum of Care for warrior healing that now includes Detox, Residential Treatment, Day Treatment, Outpatient (IOP), Sober Living, Aftercare and Warriors Anonymous 12-Step AA Specialty Group meetings for warriors.
2. Extended dual-diagnosis healing program for both substance abuse and secondary diagnosis (PTSD, anxiety disorders, mental health, etc.) from 4 to 6 weeks with regular therapy meetings with two counselors, group therapy and warrior experiences.
3. Enhanced evidenced based therapy modalities and electives using a "training program" approach that includes whole-body treatment and tools, including EMDR Trauma Therapy, Brain Treatment (for TBI and major depression), Metal Shop, Wood Shop, K9 Emotional Support & Service Dogs, Fishing, Jiu Jitsu, Art Therapy and more to rebuild lives.
4. Expanded Warriors Heart team with professionals who all have a "warrior connection." Each member has a powerful WHY, and is either a former warrior or has a loved one who was/is a warrior.
5. Certified as a "Great Place to Work" two years in a row by employees through an independent "Great Places to Work" survey, where 100% replied that they are "proud to tell others I work here."
6. Expanded capacity to serve more warriors at their 543-acre ranch and new Warriors Heart Lodge for Sober Living from 40 to 112 total beds, with plans to add more soon on-site and at other locations.
7. Provided hardship scholarships through the Warriors Heart Foundation that is a separate entity and a 501(c)(3) that accepts deductible donations to help heal warriors by providing hardship grants to assist in covering the cost of treatment at Warriors Heart and other locations if it is not covered by insurance.
8. Built partnerships with organizations that support the foundation and mission, including the Gary Sinise Foundation, Black Rifle Coffee Company, U.S. Elite Footwear and an MTM l Watch Limited Edition Series.
For more information on the Warriors Heart 5-year Anniversary Celebration and to support this community, follow online on their social media channels where client art and other milestones that will be featured April 22 – May 5, 2021.
Warriors Heart on Facebook
https://www.facebook.com/warriorsheart
MEDIA CONTACT for Warriors Heart:
Liz Kelly: 310-987-7207
ABOUT WARRIORS HEART (Bandera, Texas near San Antonio): Warriors Heart is the first and ONLY private accredited treatment program in the U.S. exclusively for "warriors" (active duty military, veterans, first responders and EMTs/paramedics) faced with the self-medicating struggles of alcohol addiction, prescription and drug addiction, PTSD (post-traumatic stress disorder), mild TBI (Traumatic Brain Injury) and other co-occurring issues in a private, 60-bed facility on a 543-acre ranch. Along with a minimum 42-day peer-to-peer residential treatment program, Warriors Heart gives "warriors" the option of Detox, Day Treatment, Intensive Outpatient Program (IOP), Sober Living (60-day minimum) and Aftercare. Warriors Heart's work has been featured on the TODAY Show, CBS Health Watch, FOX 11 Los Angeles, National Defense Radio Show and in TIME, Forbes, The Chicago Tribune, Addiction Pro magazine, San Antonio Business Journal and many more. There is a 24-hour Warriors Heart hotline (844-448-2567) answered by warriors. https://www.warriorsheart.com/