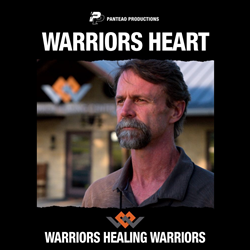 We're just changing the narrative. We run a training program. You come to us. You get cleaned up. You get trained up. And then you get back into the fight, whether that's in living or on the job. - Tom Spooner, Warriors Heart Co-Founder and U.S. Army Veteran
SAN ANTONIO (PRWEB) August 16, 2021
To help his fellow warriors heal, Former Special Forces and Warriors Heart Co-Founder Tom Spooner opened up in a new interview with Dr. Drew Pinsky on The Dr. Drew Podcast. Speaking from the heart, Spooner described his military service, long-term recovery, the WHY and HOW behind creating Warriors Heart that is exclusively for frontline protectors (military, veterans, first responders, EMTs/Paramedics) and their new documentary: Warriors Heart: Warriors Healing Warriors (available on Amazon Prime Video).
When Dr. Drew asked Spooner to describe his personal struggles with chemical dependencies, PTSD, mild TBI (from combat injury), and trauma, he described getting sober at 22-yr-old while serving in the U.S. Army, and how that impacted his 21 years of military service (1990-2011). Spooner's service included time in the 82nd Airborne, as a Green Beret in the US Army's 7th Special Forces Group and, ultimately, in the US Army's 1st Special Forces Operational Detachment Delta as an Operator.
When asked about the Warriors Heart recovery programs, Spooner explains that it's a full continuum of care (Detox, In-Patient, Intensive Outpatient, Sober Living and Aftercare) that is built as a "training program." Spooner adds, "We're just changing the narrative. We run a training program. You come to us. You get cleaned up. You get trained up. And then you get back into the fight, whether that's in living or on the job."
When asked to describe their 42-day in-patient program, Spooner explained, "Everything we do at Warriors Heart is evidence-based. We are heavy 12-step, and they get 3 to 4 one-on-ones a week, which is unheard of. The industry standard is one. They get two sessions with a chemical dependency counselor and one to two with a trauma counselor."
Spooner and Dr. Drew then discussed the importance of healing with peers. Spooner added that the "magic happens" at Warriors Heart in the evening "when the day is done" around the fire pit where fellow warriors talk about their day, recovery and experiences.
When Dr. Drew asked about alumni involvement, Spooner explained that alumni do come back to speak about their stories and provide hope and encouragement to those in the program.
Dr. Drew reflected, "People don't appreciate how much peer groups are important…whether it's recovery or PTSD or both, the peer thing is vastly underrated or under-recognized by the general public."
Spooner then expanded that healing modalities include group therapy, counseling, EMDR and more, and they get time for electives to process (Wood Shop, Metal Shop, Art Shop, gym time, Fishing, Hiking, K9 and more).
When asked about who pays for the treatment, Spooner explained that Warriors Heart is a private facility, and most treatment is covered by insurance, private pay and/or hardship scholarships. He is very proud that no one has ever been turned away for financial reasons. Anyone who wants to get involved and support this program can visit their foundation website: https://warriorsheartfoundation.org.
At the end of the interview, Spooner emphasized, "If you or a loved one needs help for a warrior (active duty military, veteran, first responder, EMT/Paramedic) struggling with addiction and other co-occurring issues, visit https://warriorsheart.com and call the 24-hour hotline: 844-448-2567 to speak to an Admissions Advocate."
WHERE TO WATCH the documentary on Amazon Prime Video:
Warriors Heart – Warriors Healing Warriors – Film
https://www.warriorsheart.com/documentary
MEDIA CONTACT for Warriors Heart:
Liz Kelly, 310-987-7207
ABOUT
Warriors Heart (Bandera, Texas near San Antonio) is the first and only private and accredited treatment program in the U.S. exclusively for "warriors" (active duty military, veterans, first responders and EMTs/paramedics) faced with the self-medicating struggles of alcohol addiction, prescription and drug addiction, PTSD (post-traumatic stress disorder), mild TBI (Traumatic Brain Injury) and other co-occurring issues in a private, 60-bed facility on a 543-acre ranch. Along with a minimum 42-day peer-to-peer residential treatment program, Warriors Heart gives "warriors" the option of Detox, Day Treatment, Intensive Outpatient Program (IOP), Sober Living (60-day minimum) and Aftercare. Warriors Heart's work has been featured on the TODAY Show, CBS Health Watch, KENS 5 CBS San Antonio, FOX 11 Los Angeles, National Defense Radio Show and in TIME, Forbes, The Chicago Tribune, Addiction Pro magazine, San Antonio Business Journal and many more. There is a 24-hour Warriors Heart hotline (844-448-2567) answered by warriors. https://warriorsheart.com