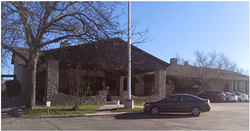 We are grateful for this expansion that will allow us to continue to heal more warriors and support the Bandera, Texas, community by attracting more business and creating more jobs as the second largest employer in the area. - Lisa Lannon, Warriors Heart Co-Founder
BANDERA, Texas (PRWEB) October 01, 2020
Warriors Heart's private residential treatment program for "warriors" announces the purchase of the Bandera Lodge as part of their expansion and continued commitment to healing our frontline protectors. This newly acquired property will become the Warriors Heart Lodge, and be used primarily for Sober Living, Intensive Outpatient, and Brain Treatment Therapy for warriors (military, veterans, first responders, and EMTs/paramedics) in long-term recovery services who struggled with addiction, PTSD and co-occurring issues.
As the first and only private and accredited treatment program exclusively for "warriors" in the United States, this expansion is part of Warriors Heart's dedication to healing warriors and supporting the local community. Along with a 42-day residential treatment program on their 543-acre ranch just outside of San Antonio, Warriors Heart provides warriors with Detox, Inpatient, Intensive Outpatient, Telehealth Outpatient, and Sober Living services.
"We are grateful for this expansion that will allow us to continue to heal more warriors and support the Bandera, Texas, community by attracting more business and creating more jobs as the second largest employer in the area. Our Warriors Heart team is dedicated to being there when our warriors need us most, just as they were always there when we needed them. This move will also provide the other hotels in the city and county, more business as the Warriors Heart Lodge will be for private use," explained Lisa Lannon, Warriors Heart Co-Founder.
With U.S. military suicides spiking by about 20 percent in 2020 (Newsweek) and additional pressures on first responders during the pandemic, there is an even greater need to provide healing for frontline protectors.
To expand Warriors Heart's "Strength Through Healing" reach, these alarming statistics add an urgency to their mission "to bring 1 million warriors "home":

Currently, there are over 2.2 million active duty service members and 23.4 million veterans throughout the United States (American Addiction Centers).
Among recent Afghanistan and Iraq veterans, 63% diagnosed with SUDs (Substance Use Disorders) also met criteria for post-traumatic stress disorder (PTSD) (National Institute on Drug Abuse).
According to the NIH, the number of fatal overdoses by veterans was nearly 2x higher than the civilian overdose rate, with overdose rates driven largely by opioids (University of Pennsylvania Center for Ethics and Rule of Law).
Suicide deaths among active duty military and veterans exceed the rate for the general population with an average of 20 veteran suicides per day in the U.S. (U.S. Department of Veterans Affairs).
Because First Responders are often on the front lines of an incident or disaster to ensure the safety and well-being of the population, these protectors are at risk for PTSD, substance use, and depression (SAMSHA).
And after having over 1,100 warriors enter the Warriors Heart program founded by Josh Lannon (President), Lisa Lannnon (Former Law Enforcement Officer) and Tom Spooner (Former U.S. Army Special Operations), the results have been inspiring and life-changing:

"Thank you for saving my life, my family, and affording me the opportunity to get back in the game to help others." – David O. MIL, LEO
"Warriors Heart made me want to live again." – Mark B, US Coast Guard
"I have become the person I am supposed to be here. I have renewed my life and have a fresh start." – Dallas, Firefighter
Based on the growing need for substance abuse and mental health services, Warriors Heart believes the new Warriors Heart Lodge will make a significant difference in the lives of our nation's frontline protectors, their loved ones and local businesses.
Media Contact for Warriors Heart:
Liz Kelly, 310-987-7207
About Warriors Heart (Bandera, Texas right outside San Antonio):
Warriors Heart is the first and only private accredited treatment program in the U.S. for "Warriors Only" (military, veterans and first responders) faced with the self-medicating struggles of alcohol, prescription and/or drug addiction, PTSD (post-traumatic stress disorder), mild TBI (Traumatic Brain Injury) and other recurring issues. It's a private, 60-bed facility on a 543-acre ranch. Along with a 42-day residential treatment program, Warriors Heart provides "Warriors" detox, inpatient, Intensive Outpatient, Telehealth Outpatient, and Sober Living. Warriors Heart has been operational since April 2016, and officially received the Gold Seal of Approval® for Behavioral Health Care Accreditation in November 2016 and re-accredited in August 2019. Warriors Heart's work has been featured on the TODAY Show, CBS Health Watch, KENS5 CBS San Antonio, FOX 11 Los Angeles, FOX 10 Phoenix, and in TIME, Forbes, The Chicago Tribune, The American Legion Magazine, Addiction Pro, San Antonio Express-News, PoliceOne and many more. There is a 24-hour Warriors Heart hotline (844-448-2567). https://www.warriorsheart.com