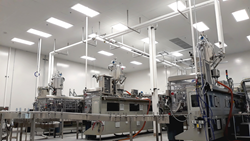 This new allergen processing capability expands the breadth of product categories and markets that Wasatch can serve. - Kevin Casey, CEO
DRAPER, Utah (PRWEB) October 09, 2020
Wasatch Product Development (http://www.wasatchlabs.com), the premier contract manufacturer of personal care and nutritional products in bottles, tubes and flexible packaging announced today the expansion of its capabilities to include peanut processing for tear-top and spouted-pouch flexible packaging.
"Wasatch's new allergen processing capability enables us to meet the growing market need for healthy fat, healthy protein formulations using peanuts, almonds and other tree nuts. We see a rapidly increasing demand from our customers and their retail partners such as Amazon, Walmart, Costco and Sam's Club for nut butters and formulations with nut-based ingredients," said Mike Talbot, vice president of sales.
According to the Mayo Clinic, research suggests that eating nuts supports general heart health.1 Wasatch Product Development employs formulators and food scientists with expertise in incorporating nut-based ingredients into novel food and dietary supplement formulations.
Kevin Casey, founder, president and CEO stated, "For more than twenty years Wasatch Product Development has been the trusted source for comprehensive product development for the personal care and nutritional industries. Wasatch combines its industry-leading R&D capabilities, manufacturing expertise, and quality systems, with state-of-the-art contract manufacturing facilities to deliver the highest quality products for our customers. This new allergen processing capability for food and dietary supplements in flexible packaging further expands the breadth of product categories and markets that Wasatch can serve."
1 https://www.mayoclinic.org/diseases-conditions/heart-disease/in-depth/nuts/art-20046635
About Wasatch Product Development, LLC
Wasatch Product Development is a full-service, turn-key contract manufacturer specializing in high-end personal care, cosmetic, dental care, OTC, dietary supplement, and food products in bottles, tubes and flexible packaging. The company employs more than 500 employees working on 19 production lines in two facilities with more than 250,000 square feet of manufacturing and warehouse space. Wasatch's state-of-the-art clean rooms, batching equipment, packaging lines and post-fill treatments provide unprecedented process control and product quality. Wasatch is ISO 22716 certified and FDA registered as OTC Manufacturer, cGMP, Medical Device Facility, Cosmetic Manufacturer and Food Facility. Wasatch is a member of the Utah Sustainable Business Coalition (https://www.utahsbc.org/). The company is a wholly-owned subsidiary of Rhyz, Inc., a dynamic family of companies bound by a collective desire to explore and share new areas of growth and opportunity.
For Further Information Contact:
Asher Cameron
Acameron(at)wasatchlabs.com
801-566-4449
http://www.wasatchlabs.com