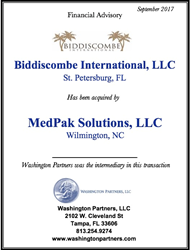 While they represented the seller, I never felt it was 'us against them'. - Mike Gorman of MedPak
Tampa, Florida (PRWEB) August 31, 2017
Biddiscombe International, LLC was founded in the mid-1980s and was acquired by the selling shareholders in 2004. It operates primarily as a contract formulator and manufacturer of organic skin care products. The principals of MedPak previously owned and operated a company that produced similar products. That company was acquired by a private equity group.
Washington Partners represented the selling shareholders in this transaction. John Melville, former President of Biddiscombe, stated, "As President of Biddiscombe, I can't emphasize enough how pleased I am with the representation provided us by the Washington Partners team. They did a great job generating solid interest in my business. They identified a great buyer and were critical in assisting both the buyer and me to get a fair deal done. They are true professionals who also bring a much appreciated personal touch. I highly recommend Washington Partners."
Mike Gorman of MedPak added, "As the buyer of Biddiscombe, I am very pleased with the representation provided to the seller by the Washington Partners team. WP was critical in assisting both the seller and myself to complete a fair deal with a minimum of stumbling blocks. While they represented the seller, I never felt that it was an 'us against them' atmosphere. To the contrary, the level of cooperation and practical approach to deal issues was extraordinary. Whether you are buying or selling a business, I highly recommend WP."
Washington Partners, LLC founded in 1999, provides intermediary services such as mergers, acquisitions, divestitures, valuations and transaction consulting for lower-middle market business owners. Their client base has included public and private companies, investor groups and management buyout groups throughout the world. The advisors at Washington Partners were the exclusive advisors to Biddiscombe International, LLC. Visit us at http://www.washingtonpartners.com.
If you would like to learn more about Washington Partners or to discuss a possible strategic partnership or sale of your business, please feel free to contact Washington Partners directly at 813.254.9274 for a confidential discussion.