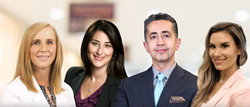 NEW YORK (PRWEB) August 31, 2020
If you live in New York City you will always pay more for these two things: real estate and plastic surgery. The real estate part makes sense, it's the law of supply and demand, but are plastic surgeons in New York worth the premium prices that they charge? The Naderi Center has a significant percentage of their patients that make the four-hour trip to have expert aesthetic treatments by some of the best doctors in the country. The Naderi Center is an ultra-specialized practice of cosmetic surgery physicians and has always attracted a national as well as global patient base. One thing that they often hear from their loyal NYC patients is how much less expensive Plastic Surgery services are at The Naderi Center compared to New York pricing for cosmetic surgery and cosmetic dermatology procedures.
New York, as well as New Jersey represents a unique patient population for The Naderi Center physicians. They feel as if there is a unique connection to cosmetic surgery patients from New York and New Jersey. For one, New York City is not that far from Naderi Center offices in Washington DC. There are multiple ways to get to DC from NYC. Train, Bus, Car and Air Planes are all convenient and quick ways to get to DC. In fact many patients in New York are already used to long commutes and traffic on a daily basis whether its going across the George Washington Bridge or through the Lincoln tunnel or driving from Long Island to Manhattan for work. So a 4 hour drive from New York to Washington DC, 2 to 3 times a year is well worth their time and effort when they can get better more specialized care at a fraction of the price. It's a win-win for the New York and New Jersey patients.
The proximity of NYC and New Jersey to Washington DC also makes patients more comfortable knowing their doctor is close by for any follow ups or any rare minor complications requiring evaluation and treatment. Flying from NYC to Turkey for rhinoplasty is risky. Driving from NYC to DC is much safer and more convenient.
Aside from the close proximity of New York City to Washington DC, the prices of cosmetic surgery services like many other things in NYC area heavily inflated. For example at the time of writing this article, several average plastic surgeons in NYC charged $2500-$4500 for nonsurgical rhinoplasty. Much of that "hype" was due to their popularity on social media such as Instagram. Unfortunately, popularity on Instagram does not always translate into great results. A true specialist and expert like Dr. Naderi in Washington DC charges only $1800 for his non-surgical rhinoplasty! That is certainly a big part of the attraction and motivation for New York and New Jersey patients who drive down to DC to see these top docs. Average plastic surgeons on Park Avenue in New York City charge $15,000-$30,000 for rhinoplasty while the well-known Rhinoplasty Specialist, Dr. Shervin Naderi charges much less. When it comes to facelifts the pricing is even more astounding. The average plastic surgeon in NYC charges $30,000-$60,000 for a face lift, whereas Dr. Jessica Kulak, an Aging Face Specialist who has dedicated her career to aging face surgery, charges in the range of $10,000 - $15,000. Patient's can recover at a five star hotel and have a nurse attend to them every day and they would still not come close to paying what they would have paid in New York.
NYC does have plenty of well-known and expert plastic surgeons but their level of expertise does not justify the crazy high costs and prices. NYC plastic surgeons may have to pay higher rents, higher staffing costs and spend much more on marketing, hence their prices will also factor in this. There is no practice as specialized as The Naderi Center where each Board Certified doctor is dedicated to just a small section of cosmetic surgery thereby offering only procedures that they do masterfully and frequently. When it comes to cosmetic surgery never limit yourself to your zip code. But don't get us wrong, we are not promoting inexpensive plastic surgery. Many American patients fly to south America for inexpensive plastic surgery and many times they face the reality of needing expensive revision surgery here at home. At The Naderi Center patients get the benefit of true ultra specialists with often better results as well as the added benefit of lower out of pocket costs when compared to local doctors back in New York.